As students went home and classes moved online at the very beginning of the COVID-19 pandemic, West Virginia University administrators faced a grim budgetary picture.
"When we went online in March, we faced a potentially catastrophic set of circumstances," said Rob Alsop, vice president for strategic initiatives, at a faculty senate meeting on Monday.
He credited the work of administrators and faculty members for saving the University from a financial crisis. Through controlled spending, federal relief and hard work, they have been able to stave off layoffs or pay reductions and have not affected faculty retirements.
"I'm really proud of the financial team and the work of our faculty, our staff in preserving expenses so that we could avoid those types of challenges for the institution," said Alsop.
One of the key budgetary metrics is days cash on hand. For the 2020 fiscal year, WVU stayed at 69 days of cash on hand, the same number as last year.
Since fiscal year 2016, the University has cut spending in excess of $69 million. For the next fiscal year, they will cut an additional $35 million in expense to meet the demands of COVID-19 spending.
Capital projects have been paused and re-evaluated and Alsop said WVU plans to issue debt to fund deferred maintenance projects. These measures will help keep the billion dollar budget afloat.
WVU expects to spend at least $23 million on testing, disinfecting facilities and other pandemic related expenses. The school also expects to lose at least an additional $26 million in revenue from reduced housing fees, dining refunds, unpurchased parking permits and lost tuition.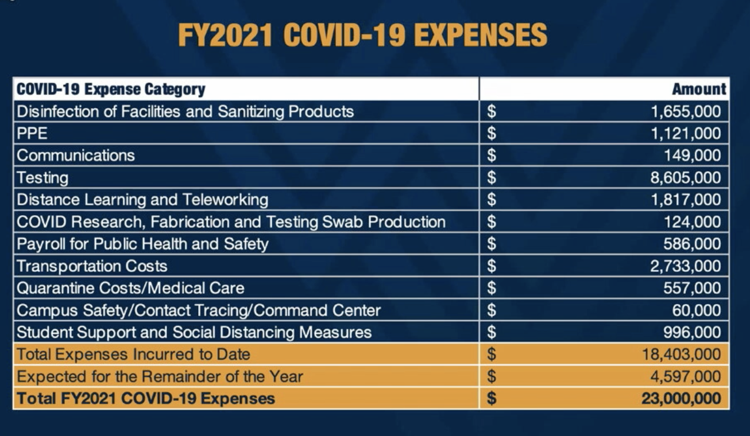 From the two federal stimulus packages, the University has received or expects to receive around $50 million. $20 million of that is directed for payments to students.
Another driver of the fiscal year 2021 budget is the smaller than anticipated freshman class.
The amount of first-time freshmen is below projections, and Alsop attributed this to a decrease of in-state and international students. He also noted a "concerning trend" as retention is up for non-resident students but is down for West Virginian students.
The University has run at "very slim" margins over the past several years and Alsop said COVID-19 has only added a new set of challenges for the University's budget. Before the pandemic, state legislatures have allocated less money to schools and the University's business model has become dependent more on tuition.
At Monday's meeting, Alsop said these trends are expected to stay but he feels good about the University's budgetary outlook for the future.
"I'm hopeful that we'll come out of fiscal year 2021 in decent shape," said Alsop. "I do think that we will have to work hard."