Next weekend, WVU's Mountaineer will be more than 30,000 feet in the air. He'll probably have some headphones in or will be asking for some water with his thick West Virginian drawl, trying not to nod off as he flies to Kansas for the football game.
It's a regular event for Timmy Eads. He bounces onto the plane's walkway and finds his seat. His buckskins tucked in his suitcase and musket kept somewhere safe- just a typical day in the life of a real Mountaineer.
However, Eads hadn't always had this life. In fact, the first time he flew was in March of 2018. He was the alternative Mountaineer and had to fly for a women's basketball game.
"I was a little nervous," Eads admitted. "But it was one of those things that people do every day, so why couldn't I do it?"
Eads was chosen to be the new mascot last April. He has managed to attend 250 events so far, and counting.
Eads said he's from a town with a population that barely exceeds 1,000 and aims to make people smile. Still, some people tend to forget that Eads is still a college kid and sometimes, he forgets, too.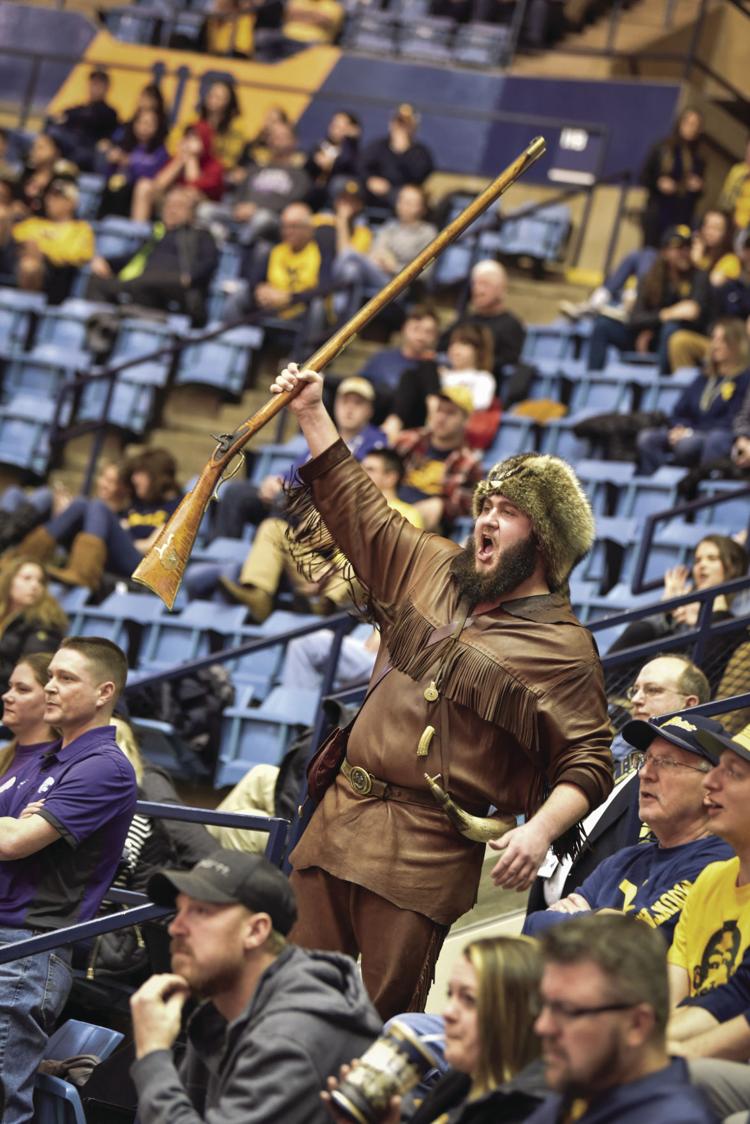 Every week, Eads looks into his advisor's office, excited to see everything the University has planned for the infamous mascot. Stacks of papers of all the events around the state that are requesting him spill off the desk.
However, he is still a college student and has to go to class, which makes it impossible to attend all the events. When he has to say "no", his hazy, blue eyes turn down.
"That's kind of been my biggest challenge," Eads said, "having to accept the fact that, you know, you can't do everything."
When he does have time to visit schools, from West Virginia's southernmost region to the panhandles, Eads is sure to bring his contagious smile. But sometimes, he is never prepared for what happens.
One day, in the beginning of his Mountaineer career, he stood in front of preschoolers that were sitting restlessly in a gym. One girl, no older than 5, raised her hand, getting Eads' attention. He grinned her way, inviting her to talk.
"Are you married?" she said.
Eads didn't know what to say.
"I lost it. I was just laughing in front of everybody, and this is when I learned that it was probably a good idea to not let preschoolers ask questions," he joked.
But as it made one person cut a grin, he says it's all worth it.
After his first event as the Mountaineer in April, he knew that he was in the right place. That day, he saw that both kids and adults were thrilled to see him.
Afterwards, he sat in his grey Toyota Tacoma truck, reminiscing about what had happened.
"I just sat there for a second and was kind of taking it all in," he recalled. "That was like the very first moment as the Mountaineer that I was like, 'Wow, I really have this amazing chance over this next year. It's like no other. I get to literally put a smile on someone's face every day, and that's something special.'"
Trevor Kiess, the previous Mountaineer, said he applauds Eads.
"Part of what makes the Mountaineer so special is that each person gets to put their own personal touch on the position," Kiess said. "And Timmy has done a really good job at that. Timmy truly understand what the Mountaineer means to West Virginia and the university, and I think that is important."