Despite students' expressing support for keeping the milking cows in the Morgantown dairy farm, WVU has decided to sell its herd to distribute finances to other programs.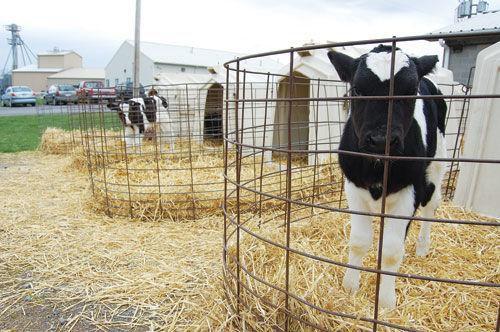 The dairy cows cost WVU around $250,000 per year, while the generated revenue is about $100,000. Therefore, the University was losing around $100,000, according to Ken Blemings, interim dean of the Davis College of Agriculture, Natural Resources and Design.
Several students disagreed with the University's decision, and said they found importance in the program beyond monetary value. One of these students is Baylee Roberts, an animal and nutritional science major.
"I'm going to miss those cows so much because if it weren't for them, I wouldn't be going into the dairy industry when I graduate," Roberts said.
While the farm has had huge impacts on Roberts' time in college, she said it completely changed her career path.
Prior to taking dairy heifer management her first semester, Roberts had no experience in the field. She then went on to take all of the dairy classes offered by the University.
"I have had two internships," Roberts said. "One was on a small dairy farm, and one was in a very large-scale dairy farm. They put me in as an assistant herd manager because they didn't have one at the time."
Roberts has worked as a teaching assistant for three years, and is working on the WVU farm Monday, Wednesday and Friday mornings starting at 6 a.m.
"If it weren't for the farm, these experiences and opportunities wouldn't have ever been available to me," Roberts said. "It set me up for my future. I don't even know if I would even still be in college if it weren't for those cows."
When rumors first started going around that the University was selling the dairy cows, Roberts said she didn't believe them.
"I was really hoping they would still be doing seasonal milking because the dairy milking has made such an impact on me and my friends," Roberts said. "I'm not going to lie- I may have shed a tear or two."
Roberts said dairy is labor-intensive and hands on, which created a distinct experience for her that she could not find anywhere else.
"In my opinion, if you can raise a dairy calf, and do so clear up until they start lactating and take care of all of their medical issues through lactation, then you can raise most livestock," Roberts said.
The dairy farm was not only a resource for the University, but also for local organizations such as Future Farmers of America (FFA) and 4-H.
"A couple weeks ago there was an FFA chapter that contacted the farm and asked them if they could have a private practice or competition here later in October," Roberts said. "We had to tell them that we weren't really sure because we didn't know if we would still have the cows then."
Although Roberts said it is hard to let go of such an important aspect of her life, she trusts that the University is making this decision for the greater good.
"I'm sad, but at the end of the day if that is what they feel is best, then they know more about it than me," Roberts said. "I just know they were a really good resource for learning while they were here."
For Charles Wilson, a senior animal and nutritional science major, the dairy program also heavily impacted his experience at WVU.
"Honestly, I didn't really have an interest in dairy until the end of my freshman year, and I got a job at the farm," Wilson said. "I have now worked at five different dairies, and it's what I plan to do after I graduate."
Wilson said he believes exposing more students to the program would have added value to the program.
"The dairy program is for learning purposes," Wilson said. "I can see them trying to lose less money or break-even, but trying to make a profit off of a learning, I guess you would call it a lab, wouldn't make sense to me."
While students are sad to see their beloved dairy program leave the University, Blemings said this decision will help further other programs within the college.
"There is certainty a lot of heritage to the program," Blemings said. "I know a lot of community members are certainly sad to see the cows go. The money we are saving will be reinvested back into the college for teaching and research programs."