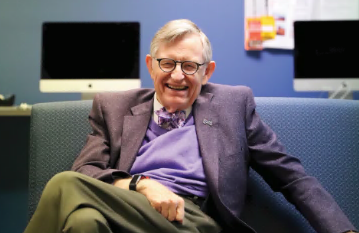 WVU President E. Gordon Gee talked with the Daily Athenaeum staff last week. Below are a few notable excerpts from the meeting. 
Student loan debt forgiveness 
When asked about the student loan debt crises, Gee said it is a serious problem.
"It is about $1.4 or $1.5 trillion," Gee said. "If the student debt starts in someway implode, we will have something much more serious than what we had in 2008 with the housing crisis."
He said the University has taken the approach to be high quality and low cost. However, he said canceling loan debt would cause major implications to the country's economy.
"It would probably put us back into the dark ages," Gee said.
Democratic candidates including Elizabeth Warren and Bernie Sanders are among those with plans to forgive student loan debt.
Upcoming election
Gee said on among Democratic candidates, he has the most confidence in Michael Bloomberg to support higher education.
"My politics are blue and gold; I don't tell anyone what my politics are, but I think probably of the candidates on the Democrat side that I would have most confidence in in terms of support of higher education would be Michael Bloomberg, because he's been very supportive of higher education," Gee said, citing the candidate's donations to John Hopkins University. 
Retention rates
Gee said retention rates on campus have continued to climb, increasing about 3% this past year. 
"We had a very robust year in terms of recruitment," Gee said. "We are in a demographic desert in many ways… the fact that we maintain very strong enrollment has been very important to us."
He said the main goal in terms of retention is to increase to 90% in the coming years. 
Gee said the University is also working to continue raising the average number of students who graduate with honors to 20%.
"We are actually slightly over that," Gee said. "That is an excellent sign that we are attracting particularly in the state we are attracting a large number of the valedictorians, the salutatorians and we focus a lot on student body presidents. 
"We are trying to get the leaders to come here and set a standard for everyone else to follow."
On-campus renovations
As construction to Hodges Hall and the new business school, Reynolds Hall, progresses, plans for developing other University structures are underway.
Gee said among these renovations and new constructions is a new children's hospital.
"We are building a new children's hospital which is going to be really state of the art," Gee said. "That is going to be very important in terms of the notion of having children get the kind of care that they need to have here."
The new hospital will be nine-stories tall with 150 bed spaces, and is scheduled to be completed in 2021, according to a WVU School of Medicine news article. 
Once complete, the WVU Medicine structure will feature diagnostics imaging and lab services, operating rooms, a pediatric intensive care unit and much more.