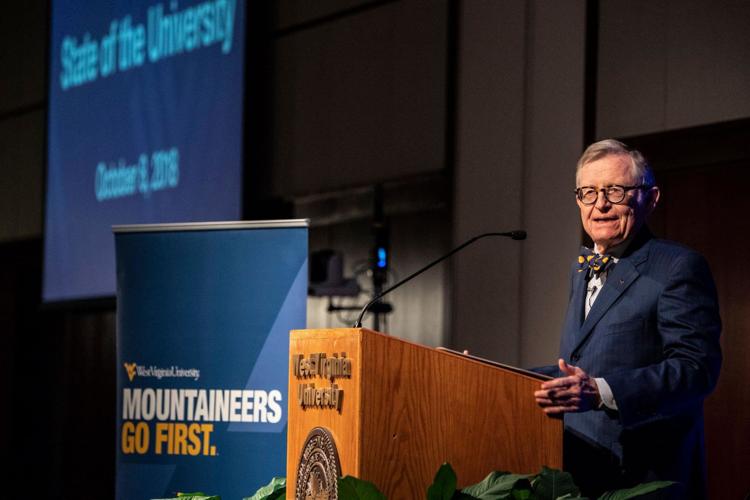 WVU President E. Gordon Gee discussed Greek life and new University advancements during his State of the University address on Monday at the Erickson Alumni Center.
Gee said WVU is moving at a very rapid pace with new innovative features that not only benefit the University, but West Virginia as a whole.
These innovations include modernizing West Virginia's higher education system, increasing behavioral and academic standards, aligning and defining the University's values, working to offer a competitive salary for faculty and working with the new research-based programs.
Gee mentioned several new programs that will be starting up this semester in order to discover more research on health-related subjects. These programs included new minors, such as the new addiction studies minor, which looks into the opioid crisis in West Virginia with a medical perspective, and opening new facilities with the WVU Heart and Vascular Institute.
The institute will soon have the state's first heart transplant program, which Gee mentioned in correlation to statistics that showed West Virginia's leading cause of death is heart disease.
Other new research Gee mentioned included heart monitors and sensors for patients with Alzheimer's disease that would track and monitor brain functions.
The address also said students and faculty alike have started looking into new methods for teaching, using an example of a faculty member who used art to bolster middle schoolers' beliefs in themselves. The Blue Ribbon Commission was mentioned several times throughout the speech as Gee spoke about higher education and future occupations being difficult for some students to obtain.
"As our state has exported coal, oil and natural gas, we have tragically been exporting our most precious resource— talent," Gee said before proposing a solution for employers to actively seek out employees, rather than the other way around.
Gee delivered the latest updates on fraternity and sorority life on campus in the address, and said the University and Greek life have been working together to come up with solutions to each problem that arises. He said that some of the final decisions made included continuing deferred recruitment for freshmen and raising academic standards. Gee will continue to work with the remaining chapters affiliated with WVU.
Five fraternities have disassociated from the University this semester.
To end the address, Gee spoke to the audience about the meanings of success and failure, and said the only way to keep moving forward as a community is to take risks.
"We must overcome the fear of failure," Gee said.
The State of University address can be found online at webcast.wvu.edu.