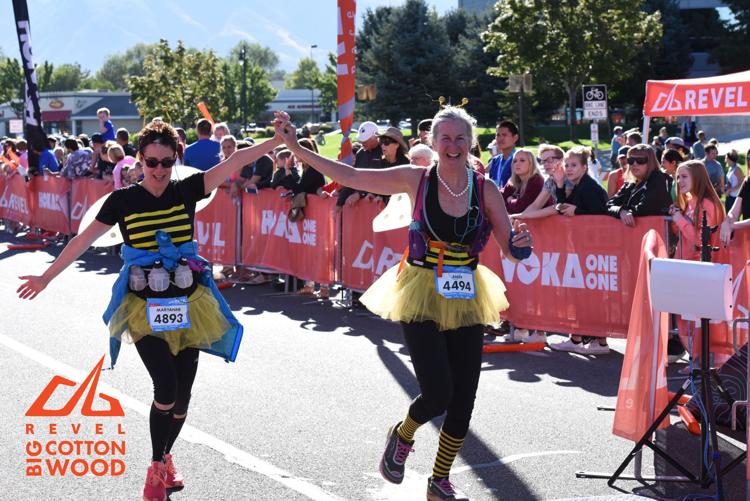 On a frigid Utah morning, runners stretched before beginning a half marathon just outside of Salt Lake City. Just before the walls of Big Cottonwood Canyon became illuminated by crisp sunlight, Maryanne Reed toed the starting line in a bumblebee costume.
This was just one of the over a dozen half marathons Reed and her best friend Ann Chester have run together across the United States, each in an outfit that they feel represents the state.
In Texas, the pair ran while wearing cowgirl costumes. In the Smoky Mountains of Tennessee, they covered themselves in fall leaves from a craft store and wore green skirts. The duo made an appearance in a holiday race as elves, donning elf hats, holiday lights and red and white striped tights. They got lost on Reed's birthday in Milwaukee, running a portion of the course twice in birthday hats.
Running is a hobby of Reed's, something that she does when she isn't facing the rigors of academia head-on.
One year ago, Reed officially became the Provost of West Virginia University. At the beginning of her tenure, she worked on strategic initiatives to improve student retention and diversity hiring but, since March, she has been consumed with helping the University adapt to online instruction and prepare for the fall amid the coronavirus pandemic.
The races are currently on hiatus as Reed now spends her days jumping from virtual meeting to virtual meeting, working with her team in preparation for a return to campus amid the coronavirus pandemic. Whether she is pushing through the last few miles of a half marathon or finishing the last virtual meeting of a long day, she tries to bring two things — her sense of humor and her curiosity. 
"I'm fascinated by people," Reed said. "I'm fascinated by learning about what makes them tick, what they care about."
---
 A Pennsylvania native, Reed began her life in higher education pursuing a bachelor's degree in history at the University of Massachusetts. Yet, she always knew she wanted to find a career in media.
After a period of freelance writing, she attended Northwestern's Medill School of Journalism, earning her master's degree before starting a career in the field.
She began her broadcasting career in Elmira, New York, eventually becoming an adjunct professor with the State University of New York. After a few years in broadcast journalism and teaching, she was at a professional crossroads — either move to a bigger television market or find a full-time teaching position. 
In 1993, she moved to Morgantown to take a full-time faculty position at the then-WVU Perley Isaac Reed School of Journalism, expecting to stay for only a few years before returning to the industry. Instead, she laid the foundation for a career in higher education that has spanned more than three decades.
"It has become far more than a job or a career, it has become my home," Reed said.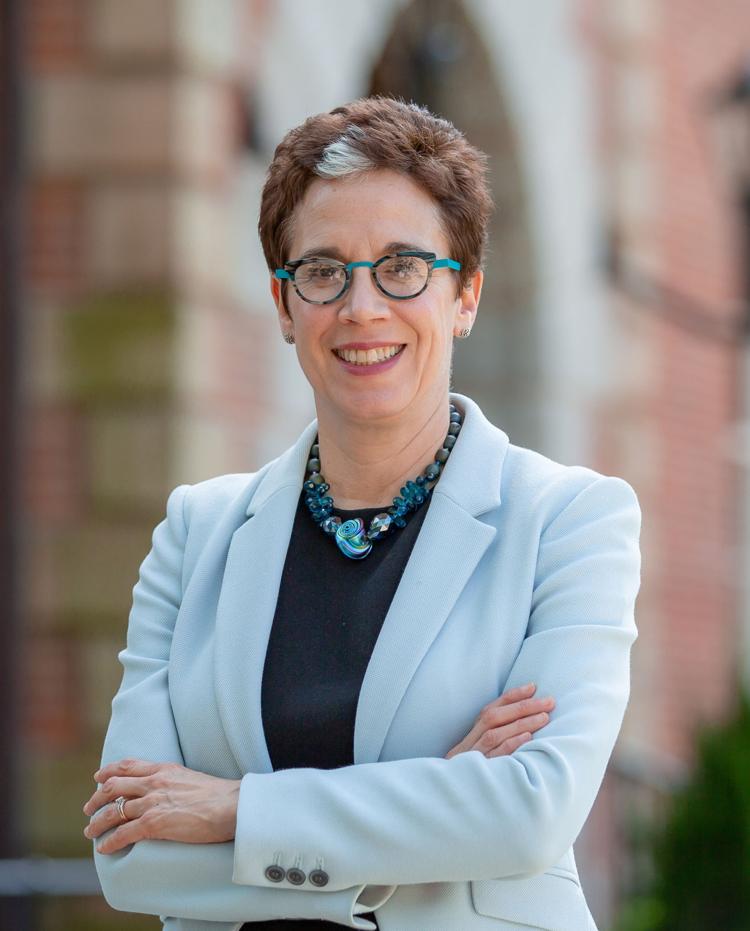 As a young broadcast journalism professor, Reed and her students worked on the second floor of Martin Hall, broadcasting the WVU News show on a set from the 1960s with 3/4 inch tape. She was later named the dean of the journalism school in 2004.
As dean, she directed the college through a period of disruption across the journalism industry. Media outlets went bankrupt and cut staff as they struggled to switch to digital. Reed forced the college to pivot quickly and meet the rapidly changing needs of the journalism education market. 
The college's curriculum was revamped multiple times throughout Reed's tenure as she led the creation of new majors and minors, a digital-first approach to journalism education and the nation's first online Integrated Marketing Communications graduate program. She also pushed the faculty to take on grant-funded projects and teach new courses.
"It's psychologically more challenging and it's more time-intensive to do those but our college does so many of them," said Diana Martinelli, a professor and associate dean during Reed's 15-year tenure leading the media school. "And in large part, it's because of her and her leadership."
Martinelli said Reed's innovative and entrepreneurial spirit continues to define the college.
"Now it's become our culture," Martinelli said, "now it's just what we do."
Reed led other changes during her tenure as the head of the Reed College of Media, eyeing opportunities to uproot the typical classroom experience.
During these changes, Reed — in collaboration with journalism professor Dana Coester — decided the college needed a physical space to disrupt the curriculum. 
At the time, the Reed College was housed in Martin Hall, the oldest building on the Downtown Campus, and she spent several years waiting for the right space to integrate the two campuses.  
When she heard of the plans for Evansdale Crossing, Reed pounced. She met with engineers and developers and began the three-year process to create the Media Innovation Center on the building's fourth floor. 
Opened in 2016, the Center has become the base of operations for the Reed College on the Evansdale Campus, and is home to many of the college's initiatives in exploring the future of storytelling.
Coester said the Center is a statement to Reed's commitment to creating collaboration across the college as dean and across the University as Provost. 
"Collaborations were already going on, not just in our program but in programs all across campus," Coester said, "It was a deliberate statement that kind of codified that and said 'this is essential to our mission.'"
In the entrance to the space hangs a plaque with Reed's name and a simple saying that exemplifies everything she does. Two words are larger than the others: "passion + purpose."
Coester said Reed is innovative, but unlike some, also brings a high level of execution to get things done.
"She is willing to take risks, but she's not reckless," Coester said. "It's not a careening innovation, it's a strategic risk-taking."
Reed's reputation for innovation also earned her a nickname among other journalism school deans as the "disruption dean." Reed contests that she doesn't see herself as a disruptor, but as a problem solver who finds solutions.
"I like to think of myself as more of an opportunist," Reed said. "I'm able to see opportunities where others don't, or maybe I force myself to do that."
The field of academics has a reputation to be set in its ways and hostile to new ideas. Coester believes Reed creates an environment where new ideas are encouraged and supported in a way that excites faculty. 
"If you have an idea, even if it's on the back of a napkin and a couple paragraphs and it's a solid idea, she was willing to say yes," Coester said.
---
Reed doesn't fit the mold of a traditional academic, and it surprised some in the WVU community when she was named Provost a year ago. She doesn't have a doctorate or a Juris Doctor degree, and she was promoted from one of the smallest colleges on campus.
But to those who know her best, it was no surprise.
"I just remember when I heard that the provost was leaving, I immediately thought to myself and I may have said to a couple of people, 'I bet they're going to ask Maryanne to do it,'" Coester said.
This is the first time Reed has navigated a global pandemic, but this isn't the first time she has worked through a time of industry disruption.
Martinelli said she saw how Reed led the college through the decline of the journalism industry and is confident that she can do it again in dealing with the coronavirus pandemic.
"I just felt like she was the right person at the right time," said Martinelli.
Before the pandemic, higher education was facing a time of industry change as long term enrollment projections were decreasing amid student concerns over the relevance of a college degree. Colleges are being forced to adapt to a changing job market, student expectations and research needs. 
As the University is changing and adapting to meet these trends, Reed said she relies on her training as a journalist to see the opportunities that other people don't.
"Now in my role, I feel like I'm helping tell the story of the University," she said, "but also figuring out what that story is."
While WVU will always be the state's land-grant university, Reed said the University will always seek to find new opportunities and innovate to meet a changing world. 
"I can't truly imagine what we'll be like in ten years, but I think we will be different and I think we will be better," she said, "That's the fun part, imagining the future."