In response to sexual assault allegations on campuses across the country, West Virginia University students demonstrated in front of Woodburn Hall on Thursday to share survival stories and call for accountability.
"There are names that I know, that are five-time repeats, that the school has done absolutely nothing about." said Isabella Giorlando, a sophomore electronic media student. "The school needs to hold them accountable."
The event was publicized through a photo on the WVU Affirmations Instagram page. In a DM, WVU Affirmations said that this protest was in solidarity with what was happening at UMass Amherst, where an accusation of sexual assault and drugging by a fraternity member was posted on YikYak.
Mary Mitchell, a sophomore journalism major, published a petition on Change.org, asking that WVU bring justice to victims of sexual assault and misconduct on campus. Those at the protest were urged to sign the petition.
"The biggest reason that people don't come forward is that they don't feel like they'll be believed," said Mitchell.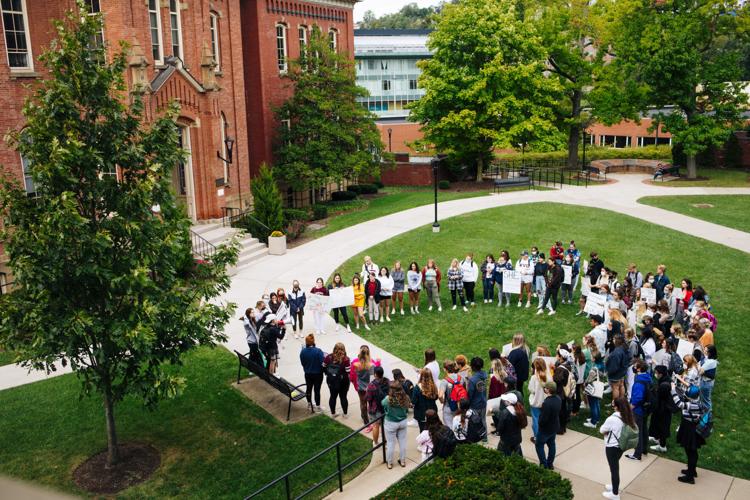 The petition states that the "West Virginia University administration has a history of tolerance for rapists and predators," but Mitchell did not give any specific examples of this happening at WVU in the petition or when interviewed.
The demonstration began on the Mountainlair Green, where some organizers of the event spoke before leading the group down North High Street and stopping at Woodburn Hall. There, the group gathered in a circle and shared survival stories of sexual assault and rape on and off campus.
Giorlando held a megaphone during most of the event and held it up while others came and spoke into it to share their stories and messages. Some said they reported their attack and they felt not enough was done by the University, while others said they did not report it because they felt nothing would be done about it.
"On campus, I know people personally, friends, old girlfriends, who have been affected by sexual assault, rape, and things like that. It's something that I want to stand up against." said CJ Miller, a sophomore political science and international studies student.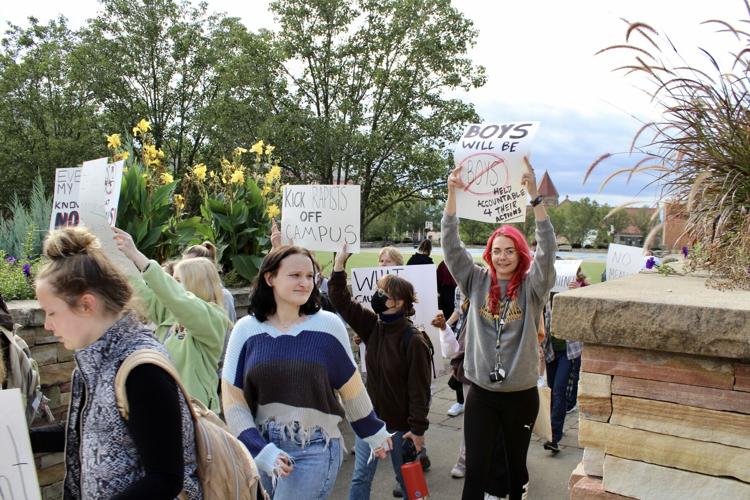 The protest consisted of about 50 attendees at any given time, with some students leaving and joining throughout the duration between classes. Most in attendance were WVU students, but a student from Fairmont State was also there.
After many of the students had spoken, the protest traveled through the Mountainlair and back to the Green, where participants gathered for a group photo before going their separate ways.