As West Virginia University faces a looming budget deficit, school officials are preparing to operate as a smaller institution in the coming years.
Vice President for Strategic Initiatives Rob Alsop said Thursday that the University will begin addressing its financial shortfalls with a reduction in workforce and programs.
West Virginia University, facing low student enrollment and inflation, expects significant f…
He made the announcement during a virtual Campus Conversation, which had a maximum attendance of students, faculty and staff.
"We take no joy about planning to be a smaller institution with fewer employees and fewer programs," Alsop said. "But it is something we need to do."
Alsop added that administrators would likely reach out to departments next week about potential employee reductions. However, he did not provide a specific timeline or the number of jobs that would be affected.
The announcement comes just days after President Gordon Gee delivered his State of the University address, where he shared details on the school's budget situation.
Driven by high inflation and low student enrollment, Gee said the University faces a potential $35 million budget deficit next school year, which is projected to reach $75 million by 2029.
"In the short term, of course, we can manage," Gee said on Thursday. "But if we want to be financially healthy as a university — and certainly financially healthy for our future — we need to correct our budget strategically."
WVU officials are also expecting a drop in student enrollment for the next five years, which Alsop said will play a primary role in the school's revenue and expenses.
According to enrollment projections provided Thursday, there will likely be about 3,000 fewer students on campus by 2028. Alsop noted the estimate was based on statewide and national trends in the college-going rate.
Next year, enrollment is anticipated to decrease by roughly 1,000 students.
"We've already lost several thousand students," Alsop said. "And so it's not out of the realm of possibility given the landscape we're looking at.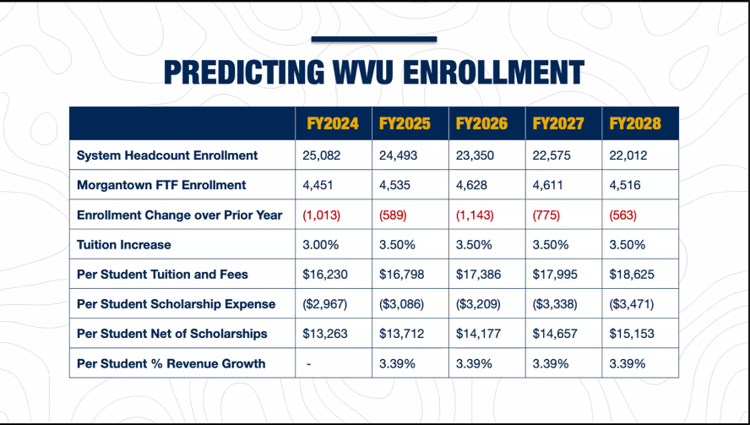 School officials are also projecting an increase in tuition costs in the coming years, primarily due to inflation and student enrollment projections.
The University is projecting a 3% tuition increase next school year and a 3.5% tuition increase each year from 2025 to 2028 — which Alsop said is more "modest" than in previous years.
"We want to continue to hold on that we cannot solve the fact that we're going to have fewer students by putting additional, significant burdens on our students to raise tuition," Alsop said.
Despite the likelihood of a tuition increase next semester, Alsop noted the University would collect less revenue from students because of the estimated drop in enrollment.
A tuition increase will be considered by the WVU Board of Governors, he said. These decisions have historically been made at the end of the fiscal year in July.
"In the interest of putting our students first, we will work to raise more dollars for scholarship dollars for scholarships and student support services," Alsop said.
According to the school's new budget model, total expenses are expected to increase next school year. This is primarily due to inflation and increases in salaries and wages among other things.
Overall, Alsop said the University's goal is to diminish the deficit by cutting expenses and reinvesting revenue into growing areas.  
"We have some expense reductions we need to make. We have to find a way to reinvest in what's going to move us forward for our strengths," Alsop said. "But it's going to be a combination of things."