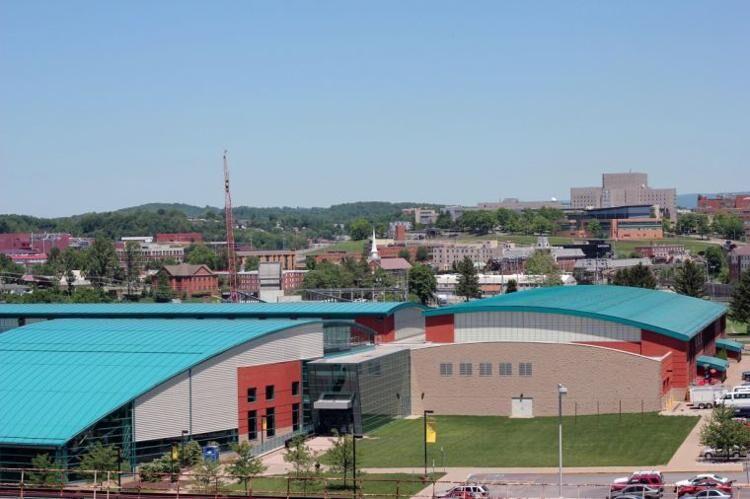 The Student Recreation Center will reopen at 6 a.m. Thursday, June 2nd, based on favorable temperature forecasts. According to the Rec Center's Twitter, the  building temperatures will be closely monitored and adjustments will be made as necessary while repairs to the chiller system remain in progress.
The Student Recreation Center closed Tuesday afternoon due to unfavorable outdoor temperatures.
At times on Tuesday, temperatures inside the building were near or above 90 degrees which is the upper limit for safe activity. The short-term weather forecast indicates high temperatures will be continuing throughout the week, and the Rec Center will remain closed depending on outside weather changes.
Due to a mechanical failure within the HVAC system, the facility is experiencing higher than normal temperatures indoors.
Repair work is underway and is a top priority, but some indoor areas may have to be closed at times if temperatures climb too high and become unsafe.
Prior to Tuesday, according to Andy Darling Director of Campus Recreation, staff had not yet had to close down or limit access to any parts of the Rec Center. Due to the rain and drop in temperatures this past weekend, the indoor facility temperatures had not drastically increased.
If the temperature indoors reaches 90 degrees or higher, the facilities would need to be closed to the public to prevent any adverse health effects. 
Darling said that areas higher in the building such as the track and upper workout center are more likely to experience a rise in temperature and would be closed first as opposed to the lower level facilities. 
The new outdoor fitness court, basketball courts and sand volleyball courts are open and available near the Evansdale Residential Complex and will remain open regardless of the outside temperature. 
At Mylan Park: The Mylan Park Aquatic & Track Complex are available to current WVU Campus Recreation members (reminder: WVU Students have access at all times while registered for classes). To access Mylan Park, please bring your ID card (if you use the virtual WVUGO app, please bring a license or other form of ID).
Below are helpful links for navigating to Mylan Park and information about their facility.