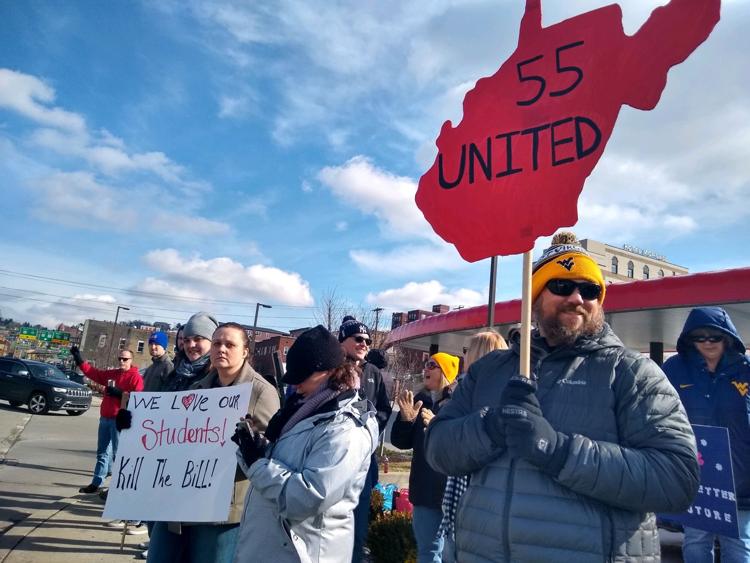 Teachers and service personnel across West Virginia will continue their strike into Wednesday.
On Tuesday, teachers and service personnel across the state hit the picket lines and swarmed the Capitol to protest against Senate Bill 451. Only one county's superintendent did not call off school.
SB 451 had multiple controversial provisions, including putting charter schools in the state.
"The Senate has been putting out a lot of smoke and mirrors," said Meghan Straface, a teacher at Skyview Elementary, who was protesting on University Avenue on Tuesday.
"The omnibus bill had about five or six good things on it, thinking we wouldn't read the rest of the bill," Straface said in an interview before the House vote.
Straface said the House was looking to work together with the public school systems in order to make a compromise. The Senate, however, had different plans in mind for the bill. 
"The Senate pushed it through in 10 minutes with all these amendments that didn't match the House's compromises," Straface said. "The Senate completely disregarded the work they did, and that's why we are here today."
 Straface said although more students will have funding to attend charter schools, transportation may not be available to them considering these schools are not required to provide it.
"In a place like West Virginia, kids have to be on a bus to get to school," Straface said. "If you're asking kids that don't have a lot of money to go to these charter schools, they have no way of getting there."
Lorri Lipscomb, an itinerant teacher in Monongalia County, believes one problem that accompanies the establishment of charter schools is that it takes funding from public schools and redistributes it to charter schools that are for profit.
"We are here to kill the bill," Lipscomb said. "Senate Bill 451, as it stands now with the amendments, is not good for public education."
Fred Albert, president of West Virginia's American Federation of Teachers, said he was concerned that the bill would be resurrected by the House, according to the Charleston Gazette-Mail. So the strike continues at least another day, with only Putnam County not announcing plans to close schools as of publication.
Senate President Mitch Carmichael tweeted his condemnation of the strike on Monday and Tuesday.
"Locking our students out of schools because the teachers union bosses have lost is an embarrassment for our state," he wrote. "Thousands of families across the state had their fundamental right to educational freedom usurped by the will of those who cling so desperately to the status quo and the empty promises by those who pressure them to defend it."