After years of being able to successfully defend against various campus carry bills from going into law, WVU is now preparing for the very real possibility of guns being allowed on campus.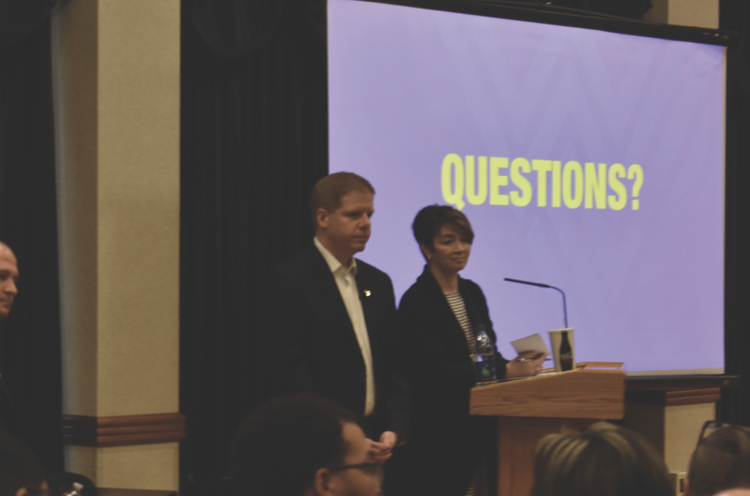 House Bill 2519, or the "Campus Carry" bill, if passed, would allow anyone who has a concealed carry permit to carry a gun on campus.
At a Campus Conversation held on Friday, WVU Vice President for Strategic Initiatives Rob Alsop said this campus carry bill, unlike others in the past, has seen strong support in both chambers of the West Virginia Legislature.
"If I had to guess, I think this legislation would pass," he said.
The bill currently sits in the House Judiciary Committee, the same committee last year's campus carry bill died in. But this year, Alsop said the House will likely advance the bill to the state Senate if it does pass committee.
"I think there's a lot of support in the Senate for the legislation as well," Alsop said in an interview following the discussion.
When asked about the bill being signed into law by Gov. Jim Justice, Alsop said he isn't sure of Justice' position at the moment.
"I haven't directly spoken with the governor's office about it, but I think it's got strong support in both the House and the Senate," Alsop said.
The Details of the Bill
The bill, as it currently is written, would only prohibit concealed carry in:
• Venues or arenas with a capacity of more than 1,500 spectators 
• Day care facilities
• Areas used exclusively by K-12 or private entities
• Areas where the University has implemented adequate security measures
The University would have to specify where "adequate security measures" would be implemented on campus, Alsop said, which the WVU Board of Governors would vote on in the future.
The bill allows anyone who is 21 years old or older who has a concealed carry permit from West Virginia, or one of the 34 states whose permits West Virginia recognizes, to carry a concealed weapon on campus.
It allows anyone from 18 to 20 years old who has a provisional permit in West Virginia to carry a concealed weapon. WVU does not recognize provisional permits from any other state than West Virginia.
If someone is 18 to 20 years old and is from out of state, the only way they could receive a permit is by obtaining a West Virginia provisional permit, but Alsop said provisional permits are only offered to those who can prove West Virginia residency. 
No international concealed carry permits will be recognized, WVU Police Chief W.P. Chedester said at the discussion.
WVU will not track weapons or make permit users register with the University, Alsop said in response to a crowd question.
"We don't plan on tracking," he said. "I don't think that's something any other state has done."
The bill only permits concealed carry, which means WVU would have the full authority to make individuals who publicly display a weapon or someone who does not have a valid permit leave campus.
Exemptions
When it began looking like this bill could soon become law, Alsop said the University's only saving grace was that it could lobby for certain exemptions to the bill.
As the bill is currently written, the exemptions listed above are the only ones so far. 
Alsop said the reality of the situation is the bill that's currently written could probably pass the legislature fairly easily. He said WVU could have sent an arsenal to Charleston to try and defeat the bill entirely, but now it's more important to lobby legislators for certain exemptions like additional funding or more firearm-restricted areas.
He gave an example number of 18 exemptions, and said WVU would try as hard as it could to get 14 of those. He said fighting the bill entirely at this point could anger legislators enough to not give WVU any exemptions at all.
"We don't want to jeopardize losing those," he said. "I don't want to call it an agreement, but [the legislature will] keep these 14 exemptions, and we'll tell people not to try to amend this bill, and it'll go in this form."
Guns in Residence Halls, Stadiums and Campus Buildings
The bill would restrict campus carry at venues with more than 1,500 spectators, which on WVU's campus are Milan Puskar Field, the Coliseum, Dick Dlesk Soccer Stadium, Monongalia County Ballpark and the Creative Arts Center.
A classroom or building on campus would not be exempted under the current bill, but Alsop said the BOG could mark an area like the Mountainlair ballrooms as a restricted area due to its seating capacity, but the downstairs of the Mountainlair wouldn't be exempt.
"If the board decided to, it could declare [the Mountainlair ballrooms] a place where even if you have a concealed weapon, you cannot carry here, but you'd be able to carry to go through the Mountainlair to get a sandwich," he said.
As for a place like the Rec Center, Alsop said the BOG would have to make a decision after the bill is passed. The Rec Center has a day care facility in it, which is off limits under the bill, but the rest of the complex, Alsop said, is "something we'll have to work through.''
If the CAC were to hold an event with K-12 children involved in production, then the area would become off limits to concealed carry, Alsop said.
Alsop said if a student wants to keep a weapon overnight in a residence hall, they would have to check it into a storage unit in one of two unspecified residence halls, where WVU plans on installing some type of unit.
Guns would not be allowed in labs or wherever other hazardous materials are present, Alsop said.
And if a high school student were to be taking classes at WVU, Alsop said the classroom the student is in would not be exempted under the bill.
Additional Police Presence
If there's anything that's given about the campus carry bill, it's that WVU Police will be seeing personnel and equipment upgrades because of it.
"We will need an additional police presence here on campus," Alsop said. 
Chedester said he won't know what specific upgrades WVU Police will get until the bill is passed. He said more officers and more training will probably be a given.
When asked about if active shooter training may be required of all students, Chedester said it could happen.
"It's actually a possibility that it could be mandatory," he said
Chedester said WVU Police will heavily push student and faculty training and education. WVU holds public training sessions at least two days a month, and these sessions can be set up by students on request.
At the discussion, a person in the crowd asked that since passing the law will cost the University money for upgraded equipment and further staffing, will the state legislature kick in any funding?
"We have asked for it," Alsop replied. "We put in a request for around $700,000, $350 [thousand] one time and $350 [thousand] ongoing. Whether they'll grant that; I don't know."
"Do I think they'll set aside money directly for this? I don't think so," he added later.
Faculty
The way the bill is currently drafted, faculty members would not be allowed to block guns from their classrooms.
Faculty, however, can choose to either allow or not allow guns in their office, if it's a single person office.
"If you're a faculty or a staff member and you have an office, and you want it to be a no-gun area, then you can tell students, 'If you're concealed carrying, and you want an appointment with me, leave it at home, because you're not coming in my office,'" Alsop said.
One faculty member said she is worried that due to the bill, heated classroom discussions could turn violent if guns are now allowed in the classroom. Alsop said, speaking personally, he doesn't believe those legally carrying guns on campus would even think about using a weapon in class over an argument.
"I will say, I grew up in North Central West Virginia; I've heard from a lot of folks who are law-abiding citizens who want to carry for their own safety, and so just because someone is concealing on our campus does not mean that they want to do harm to you or others," Alsop said.
"We're going to have a culture with our students and our faculty as to where everybody is as comfortable as they can be," he added.
When the bill could go into effect
Under West Virginia law, a bill must be passed out of the house of origin (the House Judiciary, in this case) by Day 50 of the Legislative session. Monday will mark Day 40 of the session.
Alsop said he expects House Judiciary to vote on the bill sometime this week.
The bill, if passed in House Judiciary, would then go to the floor for a full vote. Assuming it passes the entire House, it would go through committee in the Senate, then to the Senate floor, and if no amendments are added it will head to Justice's desk.
As for when the law would be implemented, Alsop said it will depend on the legislature, but WVU has asked for an 18-month grace period.
"Normal effective date for a bill is 90 days," he said. "We have asked for, I think it'll be in the legislation, either way, for an effective date of July 1, 2020."
SGA Passes Proclamation Against Bill
At last Wednesday's meeting, SGA passed a proclamation urging Justice and the legislature to oppose the bill. 
President Isaac Obioma spoke to the legislature during a public hearing Feb. 11 and said that WVU Police has already made the campus safe. He said guns should not be in dorms and classrooms, and that the bill doesn't reflect what life is like on campus.
Students Who Support the Bill
Taylor Giles, a junior political science and strategic communication major from Charleston, said at the discussion Friday that under Supreme Court precedent and the West Virginia and United States constitutions, students have the right to exercise their second amendment rights on campus.
In 1969, SCOTUS ruled in Tinker v. Des Moines that a school could not prohibit students from wearing black armbands in support for a truce in Vietnam.
"They ruled that your rights don't stop at the schoolhouse door, which has been applicable to every other right in the Bill of Rights, and that doesn't really stop whenever you go up in age," he said.
SGA Senator Lyndsey Moran, a senior strategic communication student from Grafton, West Virginia, wrote in a blog post on her Twitter page that she believes students have a constitutional right to carry a concealed weapon on campus.
"As someone who believes in individual freedom, personal autonomy and the importance of constitutional rights, I support the Campus Carry legislation," she wrote. "If you're a law abiding gun owner, your constitutional rights do not end simply because you decided to get an education."
Moran was one of the three no votes against SGA's proclamation. She wrote in the post that she didn't think SGA's proclamation was written with enough student input.
"However, political bias should be separated from the Student Government Association," she wrote. "It does not matter if you place your opinion on a piece of paper littered with SGA logos – those in SGA should be the voice of the students, not for the students."
Correction: An earlier version of this article said SCOTUS ruled on Tinker v. Des Moines in 1965. This is incorrect. That happened in 1969.