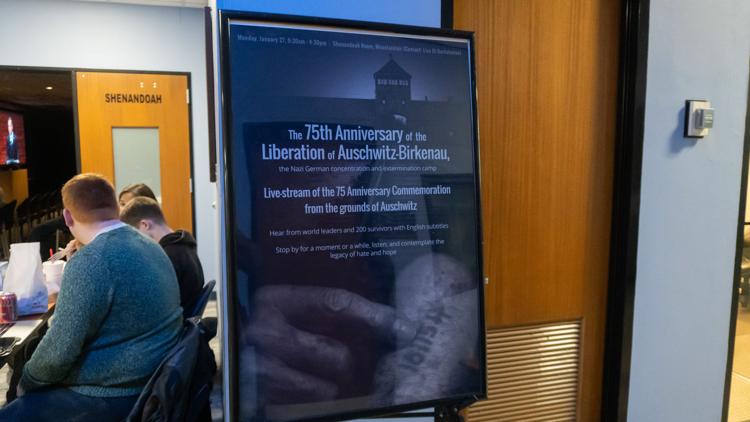 When Linda Jacknowitz's step-uncle came to visit her in New York, she heard his story of survival for the first time.
"I was a child," Jacknowitz said. "I went to bed, but I overheard the grown-ups talking. He spoke about how his first wife and his two little girls were separated from him when they got to the camp, and he never saw them again."
 She said as a child, hearing the story of the Auschwitz-Birkenau concentration camp was a nightmare come to life.
"It was the scariest thing I had ever heard in my life," she said. "The next day I told my mother what I had heard. She talked to me. She knew how scared I was.
If it could happen to those little girls, it could happen to any little girls, and it certainly could happen to this little Jewish girl."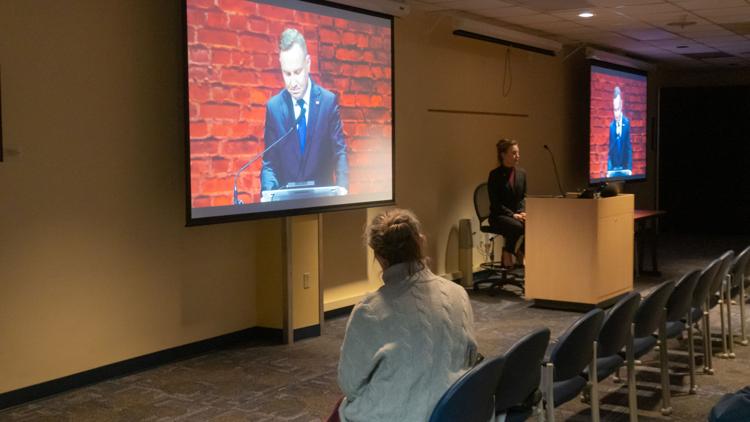 Jacknowitz is one of many participants who attended the event held on Monday in the Shenandoah Room of the Mountainlair as way of remembering the 75th anniversary of the liberation of the Auschwitz-Birkenau concentration camp. The event was hosted by the Pi Lambda Phi committee.
"We are just asking people to stop by and spend a couple of minutes listening and thinking about what it means 75 years later," said Lisa DiBartolomeo, a WVU world languages teaching professor. 
Participants gathered to watch a livestream from the Memorial and Museum at Auschwitz-Birkenau as 200 survivors gathered and shared their stories. Emma Ducassou Pehau, a junior political science student, said one story in particular about a young girl stood out to her.
"It was a story about a little girl in a red coat," she said. "There are always really terrible stories about little girls or boys. It's really so shocking and I don't even know how people could do this to a human."
Several student volunteers handed out fliers with additional information, in hopes of spreading awareness and educating participants. DiBartolomeo said one of the main goals of the event was not only to remember history, but also to ensure tragedies like this will not repeat themselves.
Alongside the livestream, books about Auschwitz and an art exhibit featuring artwork from the Yad Vashem World Holocaust Remembrance Center was on display at the WVU's Downtown Library.
"Somebody has to remember," Jacknowitz said. "I just hope that what we learn from this horrible tragedy will help us make sure that never again can something like this happen in this world."