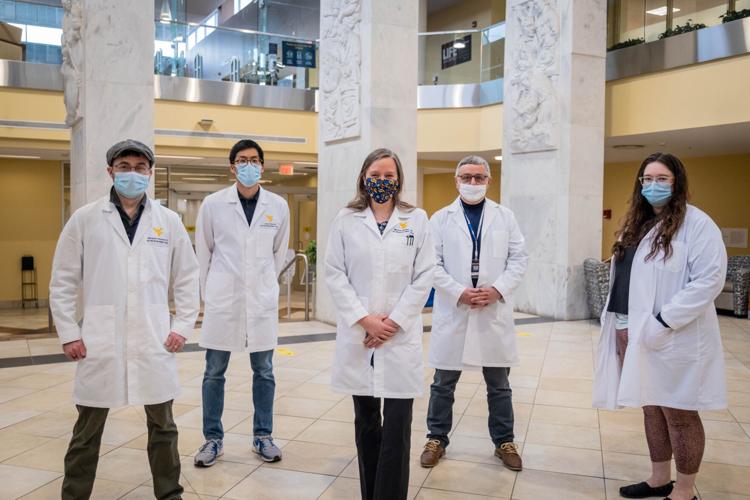 The WVU School of Medicine has received a substantial grant to research developing treatment for antibiotic-resistant infections.
The grant was received through the U.S. Department of Defense's Defense Threat Reduction Agency, and totals $1.4 million. A research group will be led by assistant professor Mariette Barbier.
Antibiotics, which are vital to the recovery in medical advancements such as joint replacement, organ transplant, cancer therapy and treatment of chronic illnesses, are designed to prevent infections following these procedures, according to the Centers for Disease Control and Prevention.
However, because antibiotics have evolving versatility, it can result in rejection and ultimately defeat the drugs that were designed to kill them.
Antibiotic-resistant infections, also referred to as antimicrobial or drug resistance, can affect just about anyone, especially those suffering from chronic illnesses. Infections caused by this resistance are difficult, oftentimes impossible, to treat.
According to the CDC, 2.8 million people in the U.S. alone face infections due to antibiotic-resistance, and more than 35,000 people die as a result.
Barbier is accompanied by associate professor Slawomir Lukomksi and postdoctoral fellow Alexander Horspool, as well as researchers from the Massachusetts Institute of Technology and the University of Maryland, to develop a way to fight antibiotic-resistant infections utilizing artificial intelligence and machine learning techniques.
"Using artificial intelligence and machine learning will allow us to make reiterative calculations in order to predict whether compounds could have potential therapeutic effects," Lukomski said in statement.
This project will serve as preparation for bioterrorism risks, the intentional release of biological agents, as well as potential solutions for antibiotic resistance. Using a "search and deploy approach," Barbier's team will combine antibodies with antimicrobials to create a therapeutic potent to potentially treat the infections.
"Some bacteria are potential bioterror agents, but there are also bacteria within those same families that are responsible for causing hospital-acquired infections," Barbier said. "By focusing on these species of bacteria, we're casting a broad net to address potential biological threats as well as infections that afflict everyday patients."
Barbier hopes to develop ways to fight the infections and prevent them from even happening.
"What we've realized is how powerful our own immune systems and antibodies can be. So what we propose here is to harness that aspect of our immune system and use it for treatment," Barbier said.
This project is the result of several connections Barbier made following the 2019 BIO International Convention. The three universities will work together to find a solution for antibiotic-resistance.