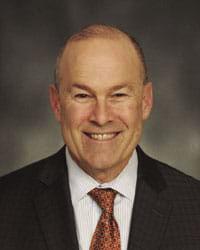 Gov. Jim Justice has chosen WVU vice president and executive dean for Health Sciences Clay Marsh to serve as West Virginia's COVID-19 czar. 
With this position, Marsh will be coordinating West Virginia's response to the COVID-19 pandemic. Marsh said in an email that he plans to work closely with state agencies, universities, hospitals and the National Guard to ensure WV follows the Centers for Disease Control and Prevention guidelines. 
"By coming home, I've been able to heal, and I want to help others stay healthy as well," Marsh said in a press conference. "I feel that we have a tremendous team. We have great medical schools and great leadership. We have a great hospital system and the hospital association is working diligently with us."
Marsh has served WVU as vice president and executive dean for Health Sciences since 2014 and is a two-time graduate of WVU, having earned an undergraduate degree in biology in 1981 and a medical degree in 1985. He has acquired more than $20 million in National Institutes of Health funding throughout his career and published more than 140 papers in peer-reviewed journals. 
"Our job here is to serve you," Marsh said. "To make the jobs of the people out there on the frontlines, the essential workers, the hospital personnel, the doctors and nurses, and the people working there feel safe."
Marsh said that in the last 24 hours, although the number of positive tests versus the total number of tests conducted has gone up over the last few days, it has stabilized at 5% positive. 
"That is a very good sign that we are doing the right things as a state," Marsh said.
In place of Clay Marsh, Jeffrey Coben, associate vice president for health affairs, will be taking over the responsibility of overseeing the Health Sciences Center.