The Daily Athenaeum will publish its April Fools' Day Edition on Monday.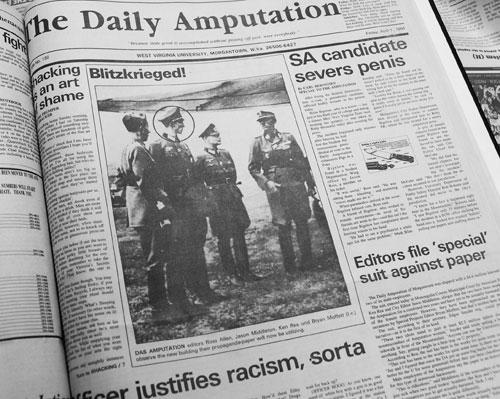 The April Fools' Edition has been a tradition at the DA. Before it hits the newsstands, something newer than the special edition should be addressed.
An increased anti-press sentiment has spread across the nation, and accurate news from the most trusted sources have been labeled as "fake news" by forces as high as the United States presidency.
The DA itself has received a fair share of baseless accusations of being fake news. While most of those accusations come from anonymous messages online, in February, after the DA's editor-in-chief gave a 17-year-old interested in joining WVU's student newspaper a tour of the DA's building, a group of people heckled the two as they left the building, shouting "fake news" at them and accusing them of being "f*****g liberals." This is reminiscent of a mindset that has infiltrated this nation, especially as the president has continually labeled reliable news sources as "enemies of the people."
With this societal shift toward distrust of the press, some might question why we even do the April Fools' Edition anymore. The answer is simple: it's April Fools' Day. Let's laugh.
There won't be genuine advertisements in the issue. Nor will any content in the April Fools' Edition be put online by the DA, which we hope will prevent the content from being warped and shared with the masses as if it is anything but satirical content.
But we will have an April Fools' Edition, and we hope you enjoy it.
One last thing: the DA recently received an email asking why the University even still allows an April Fools' Edition. We'd like to remind readers that the DA is an independent student newspaper, and no editorial decisions are made or ever will be made by the University.