Student journalists should not be harassed walking out of the newsroom. pic.twitter.com/iC3KMD9W97

— Douglas Soule (@DouglasSoule) February 22, 2019
A 17-year-old high schooler interested in journalism wanted to tour the Daily Athenaeum building.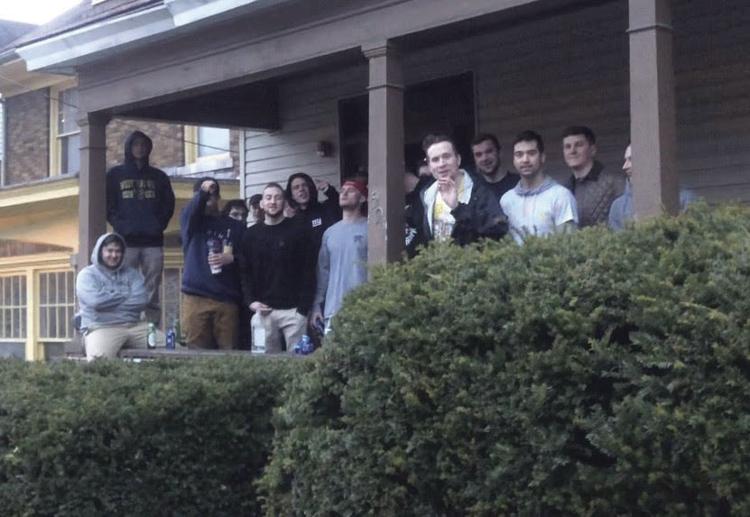 So, on Friday, I gave her a tour, not knowing that she would soon be exposed to some of the poisonous anti-press sentiments that have become all too common in our society.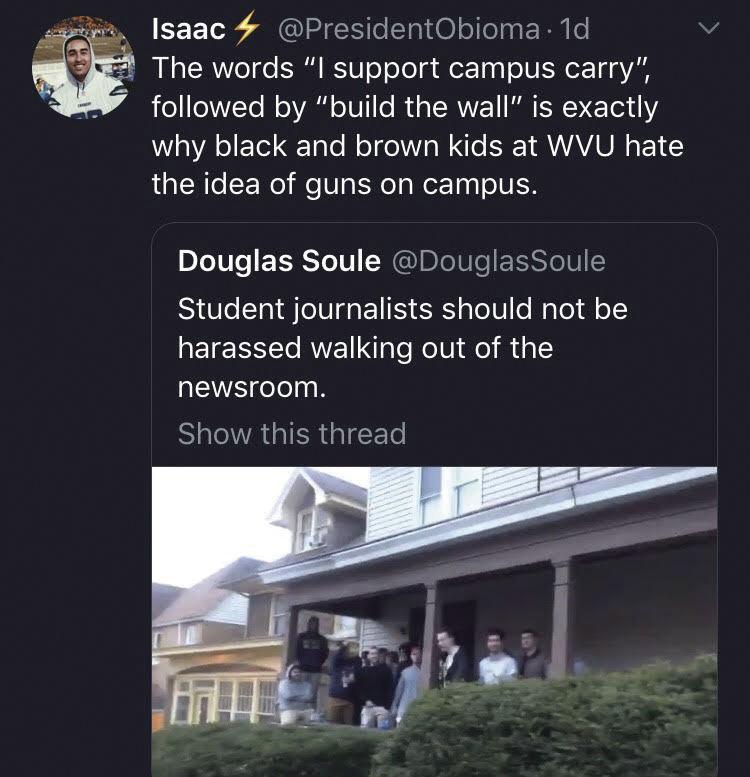 After the tour, we walked out of the building's back entrance and into the sight of partiers across Spruce Street.
Profanities aimed at the DA came from the beer can-littered porch across the street before the door slammed behind us. Lies followed, like their accusations of us being fake news. I initially shrugged off their insults and kept walking, thanking them each time one contributed to the tirade. Baseless comments such as theirs are certainly nothing new to any news publication.
Then, I paused. Journalists shouldn't have to be harassed walking out of the newsroom. It shouldn't be accepted as normal and shrugged off. This behavior should not go unexposed. I turned toward them, told them I was filming and lifted up my phone.
"You're fake news."
"Fake news."
"The DA is fake news."
"You're f*****g liberals."
"Build the wall."
"I support campus carry."
"Build the wall."
As I walked away, I thanked them again and told them to enjoy the party.
Recounting this event is not an attempt to portray DA employees as victims. It's to show how society has shifted to allow a group to feel empowered to casually demean other students — even high school students — for being journalists. These people were only parroting statements made by others, and those others come from places as high as the United States presidency. 
This anti-press rhetoric has consequences far more severe than obscenities shouted off a porch. Over the past year, journalists have been attacked and killed. And institutions that work endlessly to uncover the truth and hold higher authorities accountable continue to be labeled as "fake news" and "enemies of the people."
I invite any of the people seen in the video to talk with me. I invite you to sit across from a table instead of a street and talk. Conversation instead of curses. Amiability instead of alcohol and animosity.
Despite the accusations of "fake news," facts are facts, and no one should leave this University parroting misconceptions.
Anything we get wrong is put in the "correction" section on our second page.
Hopefully, what this group got wrong can be put in the past, cleared up by our conversation.