When living in a place like Morgantown, one can expect bars, taverns and pubs as far as the eye can see. 
Some students, however, may not know that one local bar is also a great place to grab a bite to eat.
Welcome to Gibbie's Pub and Eatery, located at 368 High Street, next door to Almost Heaven Bar and Grill. 
Gibbie's has been open since August 1987, and has since had the goal to "create a comfortable atmosphere, delicious food, excellent service, and uphold the long-running restaurant tradition." 
Along with beer and food, Gibbie's hosts a variety of events, including trivia nights and live entertainment. 
Being a freshman, there are so many restaurants I didn't even know existed. When I got to Gibbie's, I realized that I had walked past the location many times without ever noticing. 
When I entered Gibbie's with my friends Friday afternoon, I first noticed the establishment's low lighting . The only windows are at the front of the building, and everything else is illuminated by the bar and the lights hanging above each table.
The place was nearly empty when we arrived, and it's a larger building with a ton of tables and booths alongside the bar. 
Our server did not write anything that we ordered down, and since we had five people eating, we were a bit concerned about his remembrance of our long orders. 
Nonetheless, we decided to start with pretzel bites and fried pepperoni rolls for appetizers.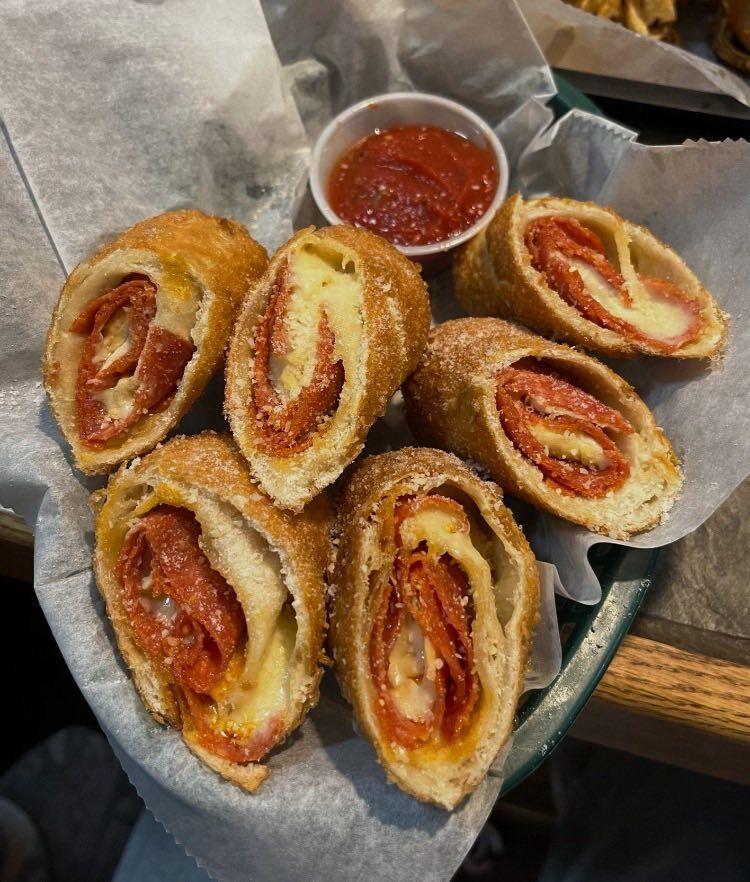 Our appetizers took about 10-15 minutes, and we were served fried pickles instead of pepperoni rolls. Our server was very apologetic and gave us the pepperoni rolls and pickles for free, which was fine by me.
The pretzel bites were absolutely delicious. They were small, greasy and super salty, with just the right amount of crispiness. One serving was plenty for the five of us to enjoy a few bites.
For my meal, I decided to go with the bacon cheeseburger, since Gibbie's is big on burgers. I had it cooked medium rare, with cheddar cheese, lettuce, onions, tomatoes and of course bacon. I got curly fries for my side.
I would say the burger was exactly what I had expected from the pub. It was a solid-tasting burger cooked the way I asked. The onions were particularly strong, which worked well for me since I'm a big onion fan. 
The fries were also fantastic. I would love to know what seasoning they used because those were some of the best fries I have ever had.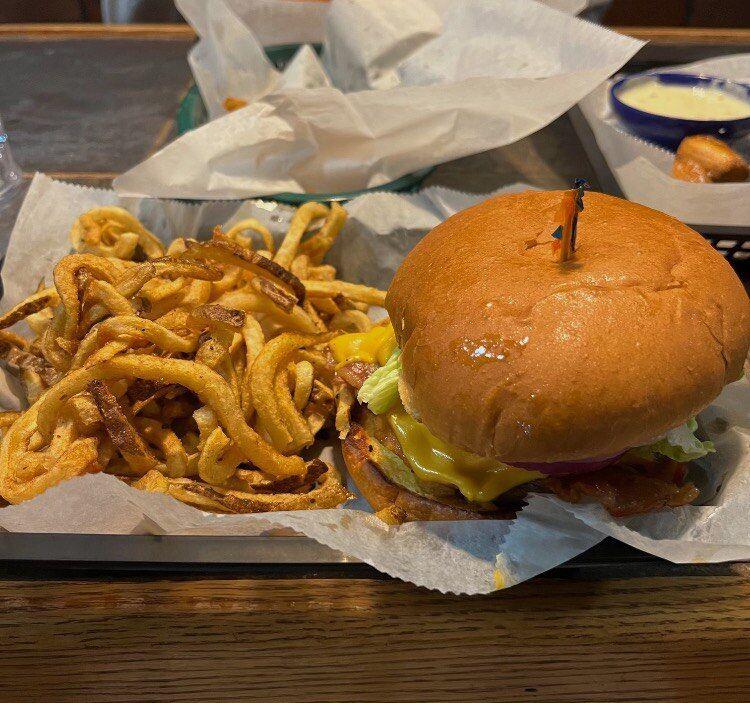 And the pepperoni rolls were worth the wait. They tasted as good as they looked: the pepperoni was spicy but not overboard, the cheese was gooey and the crust was super crunchy. They even sprinkled parmesan cheese over the top, which added to the presentation.
I would say overall the pepperoni rolls were my favorite part of the meal, and my friends would agree. 
The burger turned out to be $12. However, it fed me for two meals, so I would say it's definitely worth the price.
If you are looking for a very relaxed environment for a meal, I would definitely say Gibbie's is the way to go. It's not too crowded during the day and is close to campus. Take a trip just to try those pepperoni rolls, and you won't be disappointed.