I'm sorry for driving here on sorority Bid Day. Wait, no I'm not. This is a road, made for cars, one of which I am currently in.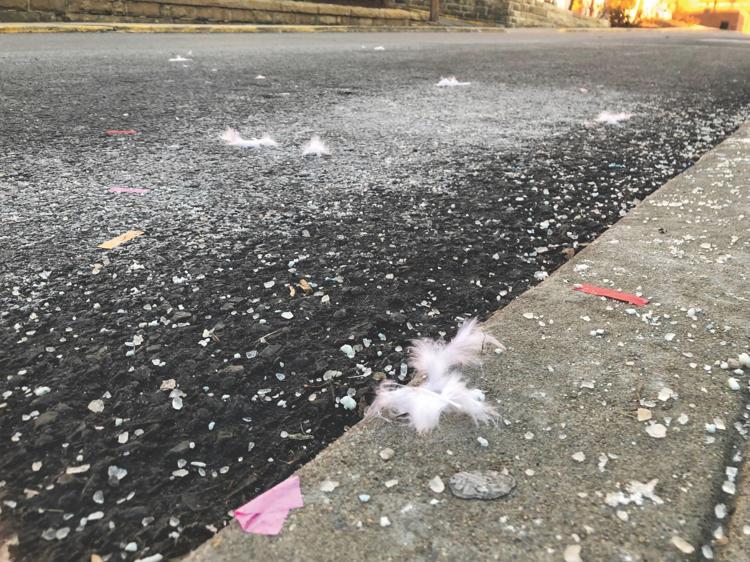 Yes, I see you. How could I not with your glitter-covered hair and flashy outfits? You look great. I'm serious; you do. And I'm happy for you, this is YOUR day! 
Yes, I hear you. How could I not with your music blaring, screaming at the top of your lungs. I love the hype, I really do, and I will scream and sing with you. Like I said, this is YOUR day, and I'm happy for you!
I love all of your cute outfits, artistic banners, catchy music and, most of all, the camaraderie I see among you all. In fact, I'm half tempted to join in just for the sake of how fun it looks! 
I also love my job, and I really wish I could get to it, but I can't. You're in the middle of the road. 
And I get it. Space is limited and this is a public street—you deserve to be here just as much as I do. I want you to have fun and take lots of cute pics, in fact, I am actually looking forward to seeing them on Instagram and will probably give them all a "double tap." Once again, this is YOUR day, not mine.
But, this is MY street, too. So please don't give me dirty looks, throw up your hands and get pissed at me for simply trying to go to work, which I am now five minutes late for.
I'm sorry I had to rain on your parade by driving my car on a road, OUR road. But please, spare yourselves the trouble of yelling at me, an innocent citizen, and just part yourselves like the Red Sea for 0.2 seconds, and then carry on. 
This is YOUR day, and I hope it goes as planned, if not better.
Silly me for driving here and ruining all the fun.