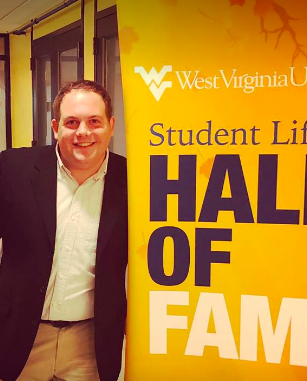 This year, fraternity and sorority life at WVU turns 130 years old. With the founding of the West Virginia Alpha Chapter of Phi Kappa Psi Fraternity on May 23, 1890, our Greek community became recognized for the first time in our institution's history. 
As I reflect on the past three academic years since beginning my tenure as director of Fraternity and Sorority Life, I am constantly overwhelmed with the memories of where we were and knowledge of where we are now. Our students decided it is best to live in the present and look forward to the future. While I whole-heartedly support this outlook, I also recognize that we cannot ignore our history.
We must always recognize that we experienced a death in 2014 with the tragic passing of Nolan Burch.
Five years later, we have established a vigorous commitment to ensure his death was not in vain, and with the "Would You?" campaign and the production of the "Breathe, Nolan, Breathe" documentary, we have the tools and resources necessary to eradicate hazing in our community.
More importantly, we now have a strong working relationship with Nolan's family. Their bravery and willingness to partner with us happened because they have faith in what we are doing and where we are going. This is how we acknowledge the past and press on towards a brighter future.
Recently, news about the stellar academic performance of the WVU Greeks has been circulating, and I've had colleagues from across the country reach out to congratulate our community on a job well done. Where the positive accolades are appreciated, we know that our work is just beginning.
Good grades stem from a change in priority. Where we can always debate where that change should originate, we must look to our recent past to witness the success of the present. In 2018, those students in our recognized fraternities and sororities committed themselves to a path forward. They put their alma mater first, put their trust in their peers in leadership, and took literally President Gee's challenge to "be bold."
We have withstood the breaking away of members of our community to go "on their own." We have navigated this new normal in a way that hasn't been done at any institution in the nation. And still — we press on.
When anonymous Twitter accounts make personal attacks against us —we press on. 
When lies and misinformation are spread to our alumni, causing negative reactions — we press on.
When our circumstances have a national spotlight on them, inviting commentary from those who don't see the full picture — we press on.
When others try to politicize our collective decision-making — we press on.
When our students enforce their own rules and community standards against the popular opinions of their peers — we press on.
The "Reaching the Summit: Plan for Excellence in Fraternity & Sorority Life" made a difference. It is a model being adopted in various forms at institutions across the country. It is because Mountaineers Go First. 
I'll be the first to say that Greek Life isn't for everybody. But that's not because everybody isn't welcome to be a part of our movement. The identities of our members matter. Their individual values must be congruent with ours. Their lived experience enhances our community, and we are better off with the caliber of student that are now members of our community.
How this will all shake out is yet to be seen. But what I can say without a shadow of a doubt is that WVU is committed to having a safe and healthy fraternity and sorority community, and we will never cease in our campaign to be the model community in the nation. We will care about one another. We will be transparent. We will inspire cultural change through student leadership. We will call for help when needed. We will do the right thing. We will reframe how Greek Life "is done" across the globe. And above all, in the face of criticism, we will press on.