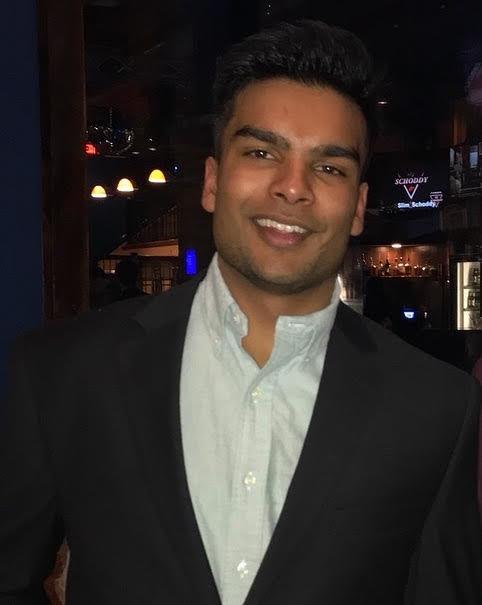 Note: Arpan Kumar, a Student Government Association senator, has been given notice by SGA Vice President Madi Matheny that he will face impeachment proceedings if he does not resign. 
Attendance at meetings of the Student Assembly shall be mandatory; more than two unexcused absences by a member of the Student Assembly shall constitute grounds for impeachment and removal from office. The President, SGA Attorney General, Executive Secretary, and the President of the Senate, shall rule on excuse. 
Above is the only explicit mention of proper grounds of impeachment in the West Virginia Student Government Association's constitution. I would like to begin by saying I don't have more than two unexcused absences. Of course, any member is able to be put up for impeachment, but usually it is only seen in extreme circumstances. However, in this case, the only circumstances to be dealt with are two absences (both of which were deemed "unexcused" by the President, Vice President, Attorney General, and Executive Secretary) and a couple terrible jokes that I had made that deemed me unprofessional during meetings.
The absences occurred on April 24 and Oct. 9. These are my only two recorded absences and they were so far apart that they weren't even in the same school year. The first absence occurred after we had just been sworn in last year and it was due to a Calculus 3 review session I had to attend as it would be a large determining factor in my overall grade. Here is a photo of the email I received from SGA: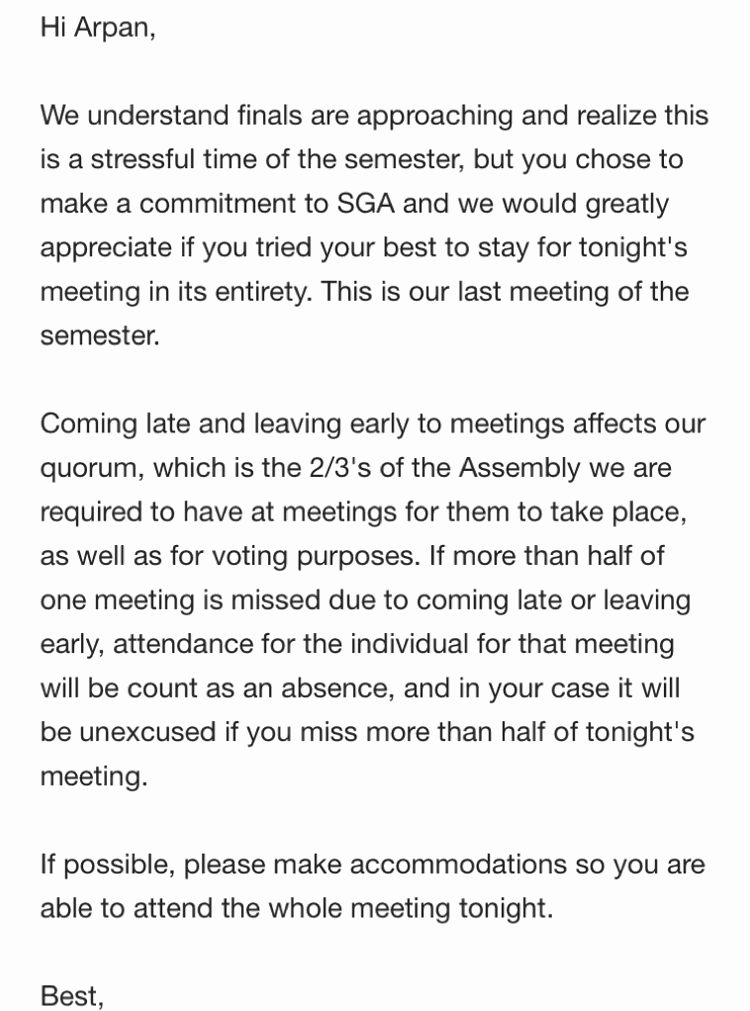 I acknowledge that they told me what would happen and that I knew this absence would be counted as unexcused, but it begs the question that why doesn't the Student Government Association, an organization with sole purpose of making sure students can properly perform at this university, understand that I was doing what was best for me as a student. I 100% understand my duties as a Senator and I do not take them lightly; however, what I do not understand is the Student Government Association forcing me to put them above my education. It'd be one thing if this was repeat behavior, but this was my first absence. 
I know that they were just trying to make sure we had quorum (enough people to have a vote) but there is a reason why we have 30+ senators on the assembly. Some nights just completely conflict with the sole purpose of why we came to campus and that is school. If SGA says otherwise then I guess I don't know the organization as well as I thought. 
 The second absence occurred much later and was in the Fall of this year on Oct. 9. This matter is very personal to me as I never wanted to discuss it with anyone, let alone in a public light. I had sent the following email to the Attorney General in confidence: *please excuse the language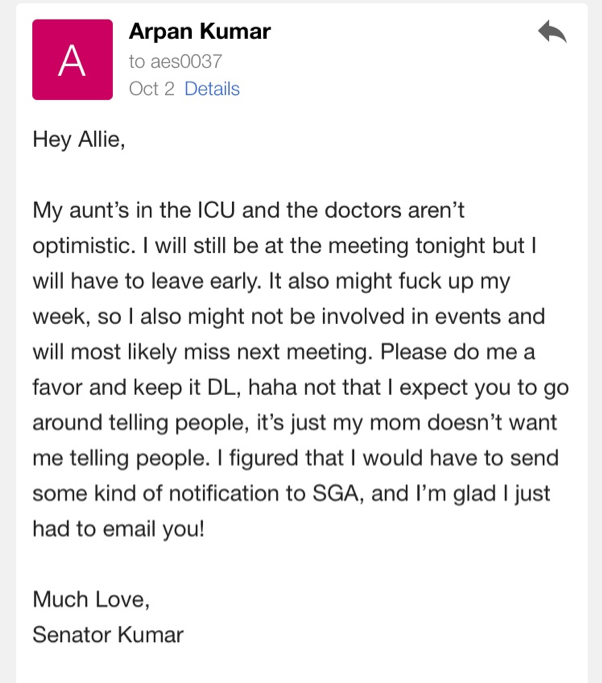 After this email I thought it would be clear that I was able to miss next meeting it even seemed that way by the Attorney General's response: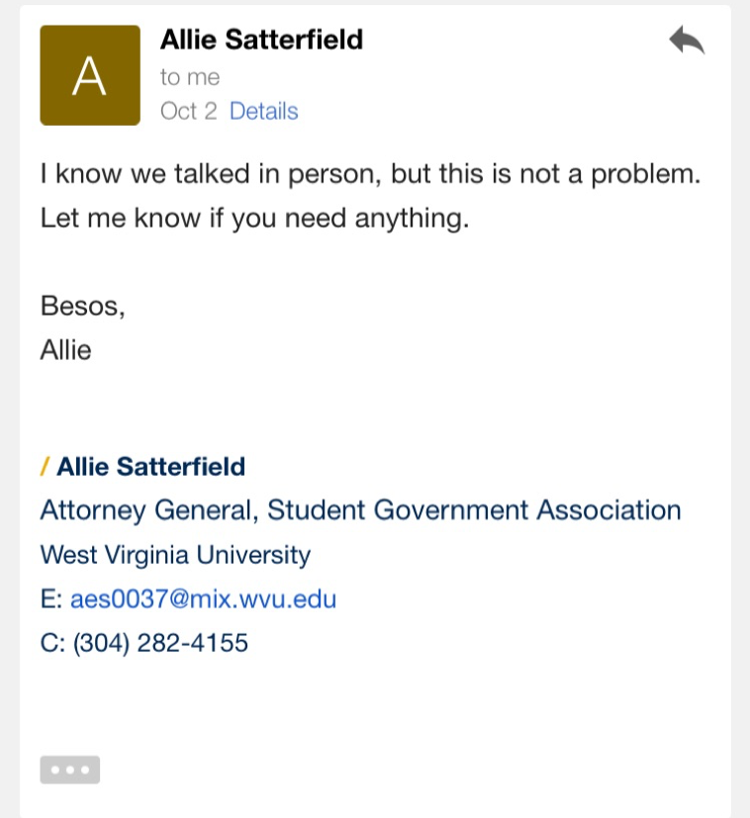 To give insight, I did attend the Oct. 2 meeting. Although it was hard, I still went because I know how important my duties as a Senator are. 
However, in a situation where my Aunt was now hospitalized in the ICU with brain damage, where my mom had to drop everything (including her job) to go to California to help my uncle take care of her and my grandma, and where my dad just had knee surgery and needed help to do just about anything. I had no choice but to miss the next meeting along with the latter half of classes that week as I left for Charleston to take care of my dad and dog. Which is very interesting because my professors seemed to understand my situation as opposed to the people whose job it is to understand my situation didn't. Well at least that's my understanding of this job as a Senator and a member of the SGA – it's represent the student not only when they are at their best but even more so when they are at their worst. And full disclosure I was definitely at my worst. 
See during this period I wasn't only dealing with family emergencies, but I had a traumatic experience from last winter that was still haunting me. I had two separate occurrences this year which put me in a similar position to what I was in and they triggered anxiety attacks. What happened and what I'm dancing around is that I got sexually assaulted by a friend and by a friend's girlfriend. The reason I'm saying this is because as I mentioned before they brought forth two jokes as testimony against my character. One of which loosely had #metoo in it. I don't remember what I said but I want to make it clear that the topic isn't to joke about and that I use humor as a coping mechanism for what pains me. I fully support this movement and the ideas it brings with it. And I promise I will never joke about a serious issue such as this again even if it has affected me, as I now know that even if I cope with laughter not everyone does and that a little joke could trigger something much deeper and something I would never want to cause. Also, I hope I didn't overshare, but it was clear in this text from the Vice President that she would make sure to use the jokes to come after my character. Now at least everyone can know where my heart was.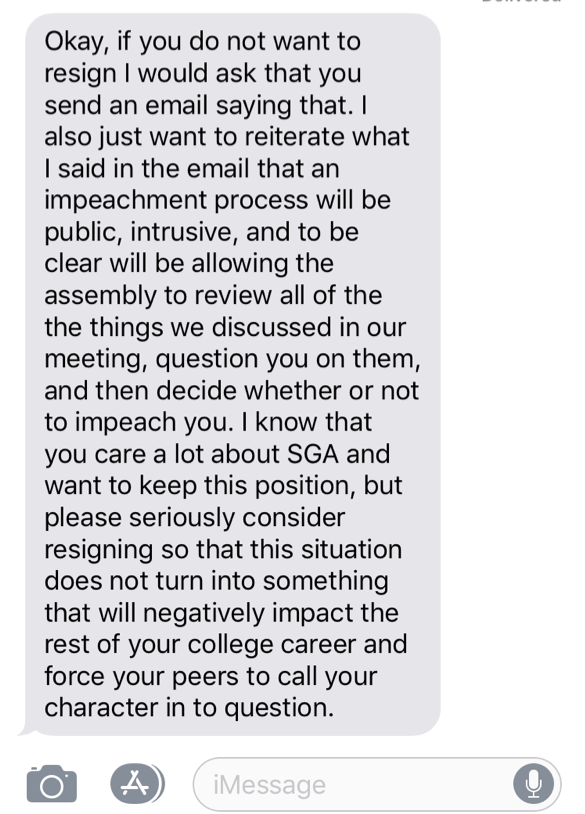 The meeting she was referring to is one that occurs at two unexcused absences this meeting is solely about the absences and is conducted by the President, Vice President, Attorney General, and Executive Secretary. To my surprise, they started getting into my character and my unprofessionalism. In SGA, I understand there is a certain amount of respect that comes with these positions but at the end of the day I am here to represent students, and well I am a student, so I didn't want to forget that and I didn't want to be fake. This led me to a position where they used to specific instances to assault my character, I found that there was only one instance I needed to address and that was done so above. Other than that, I have gotten what I wanted off my mind. I normally wouldn't cast myself into the public eye like this, but they were using it as a bargaining chip to get me to resign, as shown in the text and through emails from them. I'd like to think that's because I don't deserve to be impeached but that is something I will not decide.
I'd like to thank the DA for giving me this platform and those who read through this. As I said I try and handle things with humor and having to do this article honestly hurt a lot as I shared things I thought I would never have to say, let alone publicly, so please excuse the headline but it's the little humor I get from this situation.