Thirteen club sports are offered at WVU, but are not supported by the athletic department for NCAA classification.
WVU hockey needs community support for NCAA status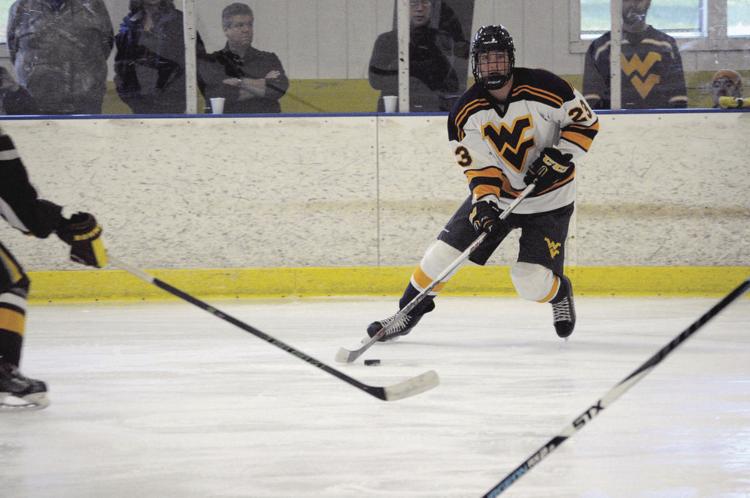 For nearly 50 consecutive seasons, there has been club hockey at West Virginia University.
The Mountaineers have brought continued success as well as fun to everyone who attends their games.
The WVU Hockey team is one of the founding members of the American Collegiate Hockey Association (ACHA), which is the governing body of non-NCAA hockey clubs.
College hockey is much more prevalent in New England and the Upper Midwest, along with Alaska, but teams in the Sun Belt are beginning to pop up, including at University of Alabama in Huntsville and Arizona State University.
"The most recent example of a club team making the jump is Arizona State," said Todd Gookin, general manager of the club hockey team. "You need a mix of support from the school and private funding for facilities to make it work. The NHL is also getting involved with a couple schools to look at viability of NCAA programs over the next couple years."
Arizona State, who played in the ACHA with WVU, announced their move to the NCAA on Nov. 18, 2014. The transition to full NCAA Division I status took two seasons, but has been unable to find a conference to join.
The NHL's Arizona Coyotes has allowed the Sun Devils to use their facility, Gila River Arena, for major home games to appeal to NCAA standards.
One major hurdle in the hockey club's path to varsity status is facilities. The Mountaineers currently play in the Morgantown Ice Arena, which is off campus and owned and operated by BOPARC (Morgantown's Department of Parks and Recreation).
"First and foremost is we need a viable place to play hockey games," Gookin said. "Minimum seating and facilities expectations that we are nowhere close to meeting at this point.
"There have been discussions over the years for a facility out at Mylan Park, on existing land owned by BOPARC as well as some more private efforts teaming up with larger institutions similar to UPMC in Pittsburgh. Part of the partnership would include youth travel and high school, college and a junior team to support the revenue needs for a new building."
Since the Big 12 Conference doesn't sponsor hockey, the Mountaineers would need to find a conference to be an affiliate member of, much like the men's soccer team does with the Mid-American Conference.
"The Atlantic Hockey Conference would make the most sense from a geography standpoint," Gookin said. "Maybe a possibility of playing in the Big Ten similar to Notre Dame as an associate member, [but] most likely a year or two as an independent until that would happen."
The Atlantic Hockey Conference is currently comprised of 11 teams, mostly in located in New England, but does include Robert Morris and Mercyhurst, who WVU already plays at a club level.
"Bottom line is we need support from people [from the] Mountaineer Athletic Club and WVU as well as private interests to get something like this off the ground," said Gookin.
The Mountaineers start the season at 7 p.m. Friday against Towson at the Morgantown Ice Arena.
Despite recent struggles, WVU lacrosse team seeks NCAA classification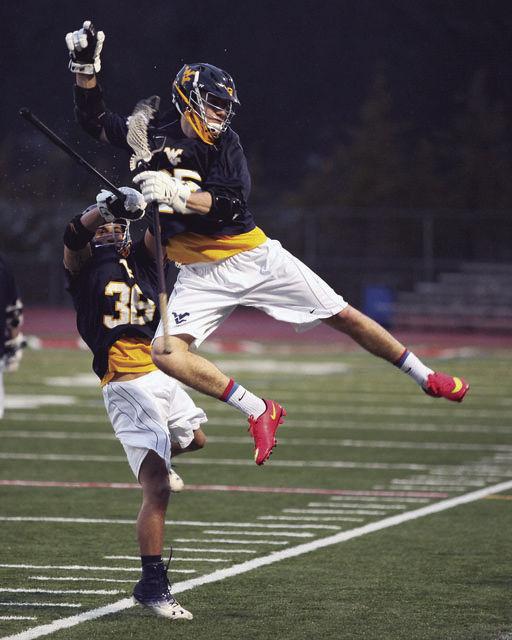 With 46 years of play, the West Virginia University men's lacrosse club has been one of the more continuous non-varsity sports on campus.
In 1971, lacrosse not only debuted at WVU, but it was the first lacrosse team in the history of the state of West Virginia.
The continuity and success of the club allowed for high school teams to sprout across the Mountain State in the late 1990s and in the new millennium, proving that the reputation of lacrosse being the fastest growing sport in the nation also applies in West Virginia.
Today, the Mountaineers are finding the way to get on the right track to give the long-time student organization varsity status.
"There's nothing that I would like more than to see lacrosse become a varsity sport here at WVU," said Dr. Jim Mills, advisor of the WVU men's lacrosse club. "I really believe in my heart that it can happen, but we're not quite there yet. We still have quite a lot of work to do to get to that point."
Currently, WVU competes in the Men's Collegiate Lacrosse Association (MCLA), but have struggled to find success among frequent opponents such as Virginia Tech, Tennessee, George Washington and Liberty.
Part of the struggle that the Mountaineers have experienced is instability at the top. There has been 10 different coaches in the last 10 seasons for the club.
The current coach, Brian Houk, has enjoyed success at the high school level in West Virginia, leading Morgantown's University High School to a state title in May 2017.
"If we can get some stability with coaching, and I think we may have that now, I think we really have a bright future," Mills said.
At the NCAA level, 87 percent of Division I teams are located east of the Appalachian Mountain range. The most successful programs come from the Atlantic Coast Conference, the Big Ten Conference and the Ivy League as well as all military academies.
If WVU were to make the jump to varsity status, Mills wants the club in a place where it can compete instantly.
"It would help to have lacrosse be stronger in the Big 12," Mills said. "Obviously lacrosse is very strong in the ACC and the Big Ten, but not so much in the other Power 5 conferences."
The Big 12 does not sponsor lacrosse, but all of the 10 of the conference's schools have lacrosse clubs in the MCLA.
This February, at least eight of those teams (including WVU) have agreed to play a round-robin Big 12 tournament, hosted by Baylor, in the hopes of possibly bringing that sport to varsity status not just at their schools, but in the conference as well.
With schools like Michigan and Utah adding men's lacrosse at the varsity level after success in the MCLA, it appears that WVU and the Big 12 might not be far behind.
Softball: What's missing?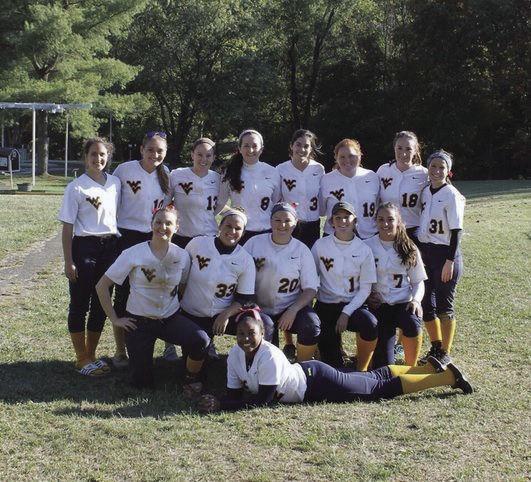 Three Big 12 Conference schools, Kansas State, Texas Christian and West Virginia, have yet to add softball to their Division I repertoire. Although it isn't NCAA-recognized, WVU boasts a club softball program akin to the competition seen at a collegiate level. The roster comes highly recruited from travel softball teams, high school softball and even Division II and III institutions.
"We have the potential to be a Division I sport in this conference. I really think we would succeed," said junior catcher and President Mikaeyla Daddio. "We have so much talent that it's fun to play and fun to watch."
"Big 12 softball is huge," said junior second baseman and Vice President Cara Stahl. "I watch it all the time and wish I was those girls. We have the grades, potential and love of the sport to do it. We've earned it too."
The team, composed of 18 girls, practices from 7-9 p.m. monday through Thursday nights at Lynch Field at Mylan Park. WVU club softball plays in the Mid-Atlantic West Conference, among some familiar opponents.
"We have Pitt, Ohio State, and Ohio University in our conference right now," Daddio said. "Our conference schedules are set up for us by our regional director. If we want non-conference games, which we're trying to do in the spring, we have to contact the other team's president and coaches to set those up."
The club softball team plays their first games against Ohio University and Pitt on Sept. 24 and Oct. 1, respectively, at Lynch Field. The team conducts tryouts once each semester, and holds informational meetings for new members in the Student Recreation Center.
"Dues depend on what we do," Daddio said. "It's usually $100 a year and that covers tournaments, traveling, gas prices, hotels, equipment, jerseys and amenities."
Club softball is not all fun and games, though.
"We've qualified for regionals every year since 2013, but lack of funding has not allowed us to go," said Senior Coach Alycia Lambert.
In addition, getting a field to play on and umpires to oversee the games are issues. Club sports get sometimes overlooked by athletic departments, as they are not directly affiliated, but even the smallest gestures amount to increased exposure.
"I put all of our games in the student calendar, so more people can go on there and see it. They're also all on our website," Daddio said.
Daddio looks to Clemson University as a guide on how to make the leap to the NCAA. Clemson, which announced in March of 2017 that they planned to officially add softball in 2020, is the most recent university to make the transition.
If Club Softball interests you, the team is looking for outfielders and pitchers for the spring roster. You can also learn more about the team by following them on twitter @WVUSoftball, looking Club Softball up on the WVU student organization website, or by emailing WVUSoftball@gmail.com.
Other club sports include:
Bowling
Fencing
Field Hockey
Women's Hockey
Women's Lacrosse
Men's Rowing
Skiing
Men's Tennis
Men's Track & Field
Men's Volleyball