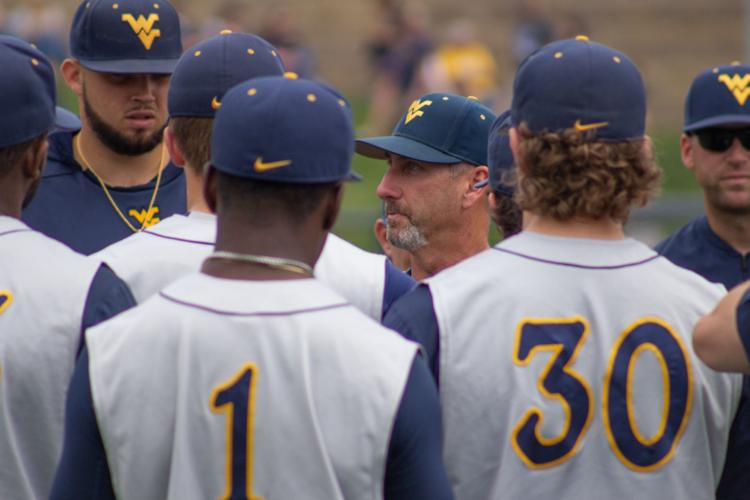 A year removed from one of the best seasons in program history, West Virginia head baseball coach Randy Mazey has some work to do in order to keep the success rolling.
Mazey, who is entering his eighth season at the helm of the team, has many holes to plug on his roster. A program-record eight Mountaineers were chosen in the 2019 MLB Draft, including Alek Manoah, a right-handed pitcher who was the 11th overall pick — tied for the highest draft selection in WVU history.
"We had all the superstars last year," Mazey said last week. "The guys that were role players are supposed to learn from the superstars and how they did it and gravitate into those roles as they get older. There are some guys that are going to have to do that.
"Some guys really step up when that's the case. We definitely need that to happen this year."
The 2020 season will be the first for a recruiting class that was ranked as the second-best in program history, according to Perfect Game. Last year's recruiting class consists of 11 pitchers, one catcher, four infielders and four outfielders.
With all three of WVU's starting outfielders from 2019 no longer with the program, Mazey expects freshman Victor Scott to play an early role for the Mountaineers.
"We have a freshman in center field," Mazey said. "You can't replace (former WVU outfielder) Brandon White — you can in the lineup, it's hard to do it in center field. Victor Scott's going to be a really good player for us."
Austin Earl, a junior outfielder from Everett, Washington, is also a member of the 2019 signing class. A transfer from Wenatchee Valley Community College, a two-year school in Washington, Earl led the Northwest Athletic Conference (NWAC) in batting average and home runs during his freshman season.
Ryan Archibald, a sophomore infielder, transferred to West Virginia following a year at the University of Arizona. A native of Churchville, Maryland, Archibald was named the state's Gatorade Player of the Year in 2018.
Offensive players returning for the Mountaineers include junior catcher Paul McIntosh (.277 batting average, 10 home runs in 2019), junior second baseman Tyler Doanes (.316 batting average, 20 stolen bases) and sophomore infielder Tevin Tucker (39 walks, 19 stolen bases).
"I think, offensively, our identity is we can run at the top and the bottom of the lineup, hit the ball out of the park in the middle of the lineup," Mazey said of the team's makeup.
The pitching staff will likely be anchored by sophomore right-hander Ryan Bergert and junior left-hander Jackson Wolf — two of the three returning Mountaineers to have started a game in 2019.
"Between [Bergert] and Wolf, those are guys that are capable, we think, if they get hot, winning eight to 10 games," Mazey said.
Braden Zarbnisky, a redshirt senior who missed all of last season with an injury, will return for the Mountaineers. He has experience playing on both sides of the ball, hitting .259 in 2018 while also striking out 35 batters in 15 pitching appearances.
"He's been super valuable to us in the past," Mazey said. "He's hit over .300 in the past and has double-digit decisions as a closer — six wins and six saves two years ago. He's got that experience. One thing he's not going to do is get rattled if you flip him the ball in the ninth inning."
West Virginia will play its first game of the season on Feb. 14, the beginning of a three-game series against the University of Jacksonville in Florida. The Mountaineers will then return home to Monongalia County Ballpark less than a week later, taking on Canisius on Feb. 18 in a single game.
Other notable non-conference matchups include Marshall at Appalachian Power Park in Charleston on March 25, as well as Pitt at PNC Park in Pittsburgh on April 29. Former Big East rival Maryland will visit Morgantown on April 7, while Marshall and Pitt come to Monongalia County Ballpark on April 21 and May 12, respectively.
Big 12 Conference play will begin on March 13 as WVU travels to Lubbock, Texas, taking on the Texas Tech Red Raiders in a three-game series.
WVU's first conference play at home will come on April 3 when Texas comes to Morgantown for a three-game series. Other conference foes to play at Monongalia County Ballpark this season include Kansas State (April 17-19), Oklahoma State (April 24-26) and Baylor (May 1-3).
The Mountaineers, who were eliminated from championship contention during the regional round last season, are hoping to build off of last season's strong performance despite the challenges that lie ahead.
"You don't want to be a one-hit wonder, so to speak, and have one great year and then not see it again for 20 years," Mazey said. "You want to build a program, and I think we've done that. We've played in the Big 12 Championship game two out of the last three years, [NCAA] Regionals two out of the last three years.
"We're developing kids, and they're signing pro. We're building a program and when you do that, you have to sustain the level that you reach and you try to progress from there. I think that's where we are right now."