Chase Illig is in his Florida hotel room when he answers the phone. He's been confined there for nearly a week.
The 23-year-old is currently in quarantine due to the COVID-19 pandemic. Instead of getting swings in the batting cage or throwing a ball around on the baseball diamond, the New York Yankees' minor leaguer spends most of his days in a two-bed room he shares with a teammate.
"It's kind of like living in the dorm, like you're a freshman in college all over again," Illig says.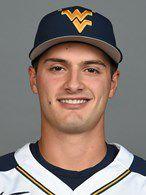 Illig, who was with the West Virginia University baseball team from 2016-19, didn't have many expectations for his first spring training in professional baseball. Yet, he surely didn't expect this.
"It's wild because, talking through with a couple of our staff members today, even when there was a player's strike in the '90s, they still went to work," Illig told the Daily Athenaeum in a phone interview on Thursday. "This is the first time that literally nobody in baseball is working."
Illig has been cautious since March 13, when he and his teammates had been told that a handful of fellow Yankees' minor leaguers were being tested for the novel coronavirus. Just days later, a member of the organization received a confirmed positive diagnosis — the first throughout professional baseball.
In response, the Yankees placed all of their minor league players in quarantine on Sunday. A handful of other players underwent testing for the virus, with a second receiving a confirmed positive diagnosis on Tuesday.
Since the quarantine began, the team's staffers have seen an increased role in checking in on the health of the players. According to Illig, players have to answer a daily questionnaire regarding if they are showing any symptoms or feeling ill.
"If you answer 'no,' then you're good. If you answer 'yes,' either the medical staff will contact you through a text or a phone call or they'll come see you and kind of go from there," Illig said.
At the moment, Illig says that he is in good health and has not shown any of the symptoms of COVID-19, which, according to the World Health Organization, include fever, tiredness and dry cough. Right now, it seems as if the only thing he is fighting is boredom.
"I've been trying to keep busy so that the days don't seem too long," Illig said.
No gym? No problem #QuarentineLife pic.twitter.com/HbVll2Tq8F

— Chase Illig (@chase_illig) March 19, 2020
With spring training games canceled and the beginning of the season pushed back, the only competition Illig has been facing has been on his roommate's PlayStation. It was one of the few methods at his disposal to try and pass the time, that is, until it broke a few days ago.
"I went out and laid by the pool for a little bit the past couple days but the hotel shut the pool area off yesterday," Illig said. "Other than that, we've just been kind of watching TV, watching Netflix, not really doing a whole lot."
When it comes to food, the Yankees are providing players three meals a day, which are delivered to the hotel. Outside of that, Illig's extended stay hotel room features a microwave, full size refrigerator and a stovetop. 
Here are photos from today's delivery. pic.twitter.com/fkg3uaogb0

— NYYPlayerDev (@NYYPlayerDev) March 18, 2020
Illig estimates that he spends 20 of the 24 hours in a day in his hotel room, potentially leading to another issue: loneliness. The change in circumstances has limited the amount of in-person contact that Illig has had, as well as who that contact is with.
"You can get lonely for sure," Illig said. "I've been talking to people on my phone, kind of getting on social media a little bit more."
Despite being thrown a curveball, Illig — like most people — is trying to find the silver lining.
"As far as being down here in Tampa, it's definitely not bad," Illig said. "I'll take being in the 80 degree weather over being in the snow any day."