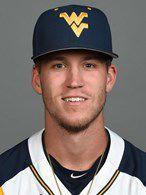 Braden Zarbnisky, a member of the West Virginia baseball team, has been granted a medical hardship waiver by the NCAA.
The approval of the waiver, which was initially announced by Zarbnisky on Twitter, was confirmed by a source within the WVU athletic department.
Zarbnisky, an outfielder and pitcher, was sidelined for the entire 2019 season with an injury. 
Over three seasons at the plate, Zarbnisky has a career batting average of .284 with one home run and 40 RBI. 
On the mound, Zarbnisky boasts a career 3.75 ERA while striking out 106 batters over 50 appearances.