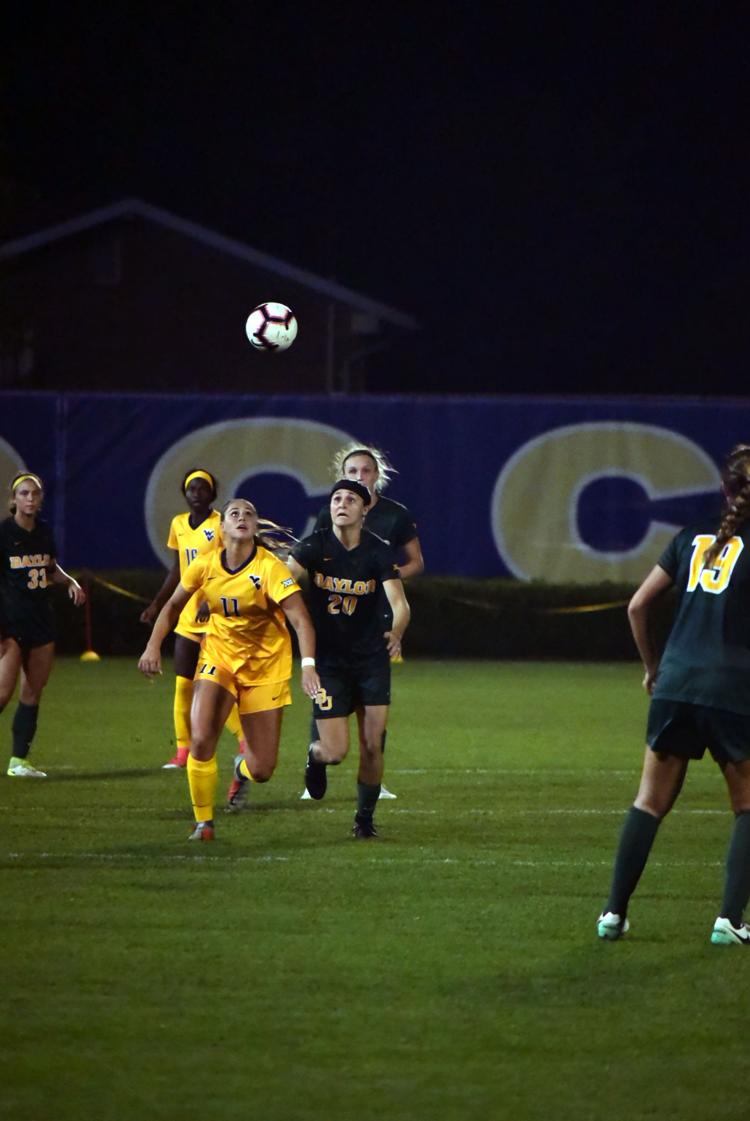 Coming in with a six match win streak, the 16th-ranked WVU women's soccer team was unable to keep their winning ways alive as they battled to a 1-0 loss to the 24th-ranked Baylor Friday night at Dick Dlesk Soccer Stadium.
In the first half, the Mountaineers' high-intensity offense got off plenty of shots but, ultimately, none of the seven attempts were able to get past sophomore Baylor goalkeeper Jennifer Wandt.
Based on crowd reaction, the most action of the half came when the WVU men's swim team, standing on the sideline, stripped down to their swim uniforms in an attempt to distract Baylor (10-4, 3-1 Big 12). Arguably, they drew the first half's biggest reaction from the crowd.
Coming out for the second half, there was more of the same from both sides. Where WVU (7-3-3, 3-1) came up with a powerful offensive attack, they were matched by a powerful Baylor defense.
Despite a strong final few minutes of regulation from the Mountaineers, neither team was able to find the back of the net.
The tie was short lived however as, almost five minutes into the first overtime period, Baylor secured the victory as junior forward Camryn Wendlandt was able to boot the ball past junior WVU goalkeeper Rylee Foster.
"We dominated in every category but finishing," head coach Nikki Izzo-Brown said. "It's unfortunate that we didn't finish tonight. I thought we played well enough to win this game, but you got to give credit to Baylor—they found the back of the net. Two shots on goal and they get one."
It is true that the Mountaineers were dominant. The Mountaineers outshot Baylor 10-1 and led in corner kicks 4-0.
Defensively, the lone goal was the first one allowed by the Mountaineer defense since their Sep. 7 matchup with Clemson.
Next up for the Mountaineers are the 13th-ranked Texas Longhorns, who will pay a visit to Dick Dlesk Soccer Stadium on Sunday. When the two teams met last season, the Longhorns left the pitch victorious with a 1-0 win.
"We're still in it," Izzo-Brown said about the outlook of the Big 12 Conference. "Texas is, obviously, super successful this year and is going to be a tough opponent. We've got to take care of business on Sunday."