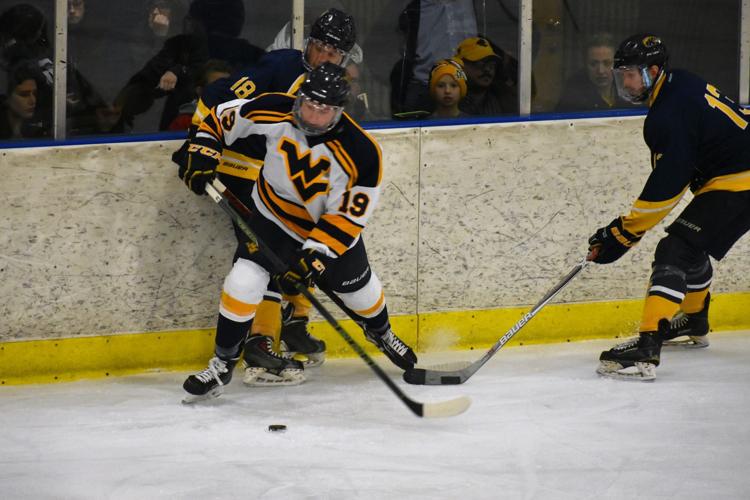 Hailing from Plymouth, Massachusetts, Cullin Cosgrove has a rich hockey background that he brings to West Virginia.
Cosgrove started skating at the age of four and then moved on to instructional hockey at the age of five. Growing up as a three-sport athlete playing hockey, baseball and football, Cosgrove's calling was in hockey.
His favorite hockey player is Patrice Bergeron, who is a center for the Boston Bruins and plays the same position Cosgrove does for
the Mountaineers.
"He is basically a big defensive player," Cosgrove said. "He is always on the ice."
Cosgrove's two older brothers were also three-sport athletes and his one brother was a catcher in baseball.
"I always looked up to them," Cosgrove said.
He went to Plymouth North High School in Massachusetts and went on to attend New Hampton Prep School, then WVU.
"I thought this would be a great fit," Cosgrove said regarding his decision to come to WVU.
He also liked Head Coach A.J. Sturges' resume. Sturges, who played hockey for Michigan State as a defenseman, has a rich hockey history.
Cosgrove is studying in business and economics at WVU and has had a pretty successful season for the Mountaineers so far. He has played in 22 games and has scored nine goals and seven assists, giving him 16 points on the season.
In the successful season he is having, Cosgrove's favorite moment this year was when WVU beat Penn State, who was unbeaten at the time. The Mountaineers beat the Nittany Lions by a score of 6-5 and Cosgrove went on to score two goals in the game.
"[We] ended their undefeated streak at the time," Cosgrove said. "[It was] a very productive game."
While playing for WVU, Cullin has made lifelong bonds with his teammates.
"The biggest thing is I have made lifelong friends on the hockey team," Cosgrove said. "We have all played similar styles of hockey."
As Cosgrove plays more games at WVU, he is honing his craft and is adapting well to playing at WVU.
Up next for Cosgrove and the Mountaineers is Liberty, who they will play the next Friday and Saturday on the road. The Mountaineers will look to earn more points for the upcoming postseason play. The games start at 7 p.m. on
both days.