On Monday night, freshman guard Trey Doomes announced that he was leaving the West Virginia men's basketball program.
From his personal Twitter account, Doomes issued a tweet confirming a report that he had entered his name into the NCAA's Transfer Portal. He also took time to praise those who made his short time in Morgantown memorable.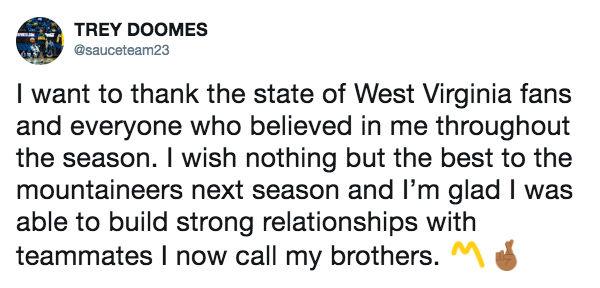 "I want to thank the state of West Virginia fans and everyone who believed in me throughout the season," Doomes said in the tweet. "I wish nothing but the best to the mountaineers next season and I'm glad I was able to build strong relationships with teammates I now call my brothers."
After having his redshirt burned in January, Doomes saw playing time in only 12 games, averaging 3.8 minutes and 2.2 points per game.
Doomes is the second Mountaineer to pursue a transfer as James "Beetle" Bolden announced earlier this month that he would be departing the program. He is the fourth Mountaineer to depart for the program this season, as Esa Ahmad and Wesley Harris were dismissed after violations of athletic department policy.