During halftime of West Virginia's 79-71 win over Oklahoma on Saturday, the 1958-59 Mountaineer basketball team was honored for the 60th anniversary of their national title game.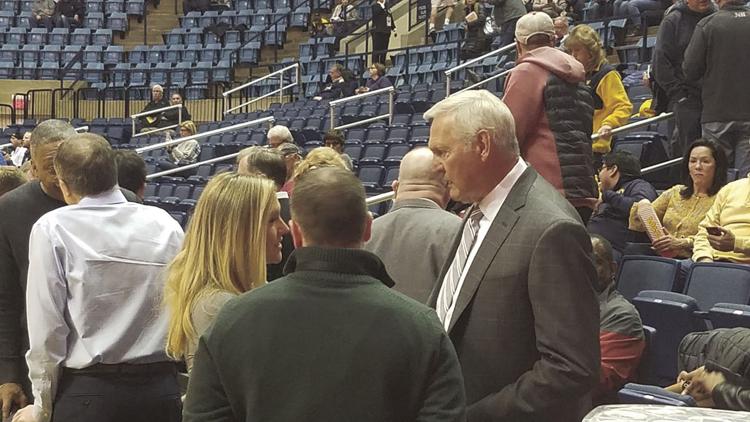 While most of the focus and cheers were centered on Jerry West, the All-American Mountaineer who went on to great success in the NBA, three other members of that team were also honored.
Morgantown-natives Jay Jacobs and Howie Schertzinger were represented, as was West's co-star, Willie Akers.
It's amazing to see 60 years afterwards how much was packed in that one season. Most fans come into the Coliseum, maybe catch a glimpse of the team's Final Four banner and move on, but the 1958-59 season brought a lot of precious moments for WVU, Morgantown and the whole Mountain State.
The Mountaineers, coming off a 26-2 record and a top AP final ranking, were motivated to get back to the NCAA Tournament. West Virginia had never won an NCAA Tournament game in their previous four appearances.
WVU started off the season with wins over Southern Conference foes Furman, VMI and The Citadel, as well as big-time home games against Penn State and Duke. They picked up their first loss of the season against Virginia Tech in the first-ever game at the Charleston Civic Center.
On their way to defend their Kentucky Invitational Tournament title, WVU flattened Richmond and Oklahoma State, but could not pull out the championship, losing to Adolph Rupp's Kentucky Wildcats.
The loss left a bad taste in the mouths of the Mountaineers, and it showed in their next game in Chicago against Northwestern. The Wildcats pulled out a 118-109 win in double overtime. 
West Virginia rebounded two days later with a win over Tennessee in Knoxville.
That victory would set the Mountaineers up on a 11-game winning streak, including wins over Yale, Furman, Canisius, William & Mary twice, Western Kentucky, George Washington, Pitt and Holy Cross.
West Virginia's win over Holy Cross ended up being especially noteworthy as it was the first time a Mountaineer home game was nationally broadcast on television. NBC would broadcast all the action that Saturday afternoon.
"There was a lot of hype," Jay Jacobs, an analyst for WVU's radio broadcast of men's basketball games and a member of the 1958-59 WVU team, said. "[NBC] brought cameras in. It was pretty crazy. Everyone was excited because you didn't get a lot of games. It wasn't saturated on your TV set with games; so, if you saw one game, everybody sort of surrounded the set and lost it."
The actual game itself followed a comeback storyline. Jerry West scored 36 points to lead a rally from 15 points down to clinch the win on national TV.
"We had that pressing defense that nobody else basically had in the country," Bob Smith, another member of that team, said. "We didn't run the score up early, so we'd be taken out of the ball game. That year, we were down in 12 games by double figures late in the ballgame and came back in all but one of them."
WVU would end up losing to NYU in overtime in Madison Square Garden in the next game, but that would be the Mountaineers' final regular season loss.
West and the Mountaineers would coast through the final four games of their regular season schedule, beating Richmond, VMI and George Washington to finish 11-0 in conference play and complete their sweep of Pitt.
In the Southern Conference Tournament, WVU would obliterate Davidson, eke out a win over William and Mary and crush The Citadel to become the undisputed conference champion and clinch a spot in the NCAA Tournament.
The moment West Virginia fans were waiting for came in mid-March in Madison Square Garden. West hung 25 points to beat Dartmouth in the Mountaineers' first-ever NCAA Tournament win. 
The news was so big that the Daily Athenaeum's story on the game was placed atop the front page over the paper's logo.
In the East Regional, the Mountaineers squeezed by Saint Joseph's and Boston University to clinch a position in the Final Four alongside Louisville, California and Cincinnati.
West Virginia's national semifinal win over Louisville ended up being a rout. West scored 38 points to help his Mountaineers demolish the Cardinals, 94-79.
In the other semifinal, Cal managed to overcome the Oscar Robertson-led Cincinnati Bearcats to set up an all-Gold and Blue national championship.
This ended up being a little bit of a bummer for the Mountaineers, because many players actually wanted to play Robertson and Cincinnati.
West Virginia missed an opportunity for the buzzer beater in the last seconds and Cal beat the Mountaineers 71-70 in the national championship.
While the team came up just short, it set the stage for West Virginia to become a destination for top talent to play. Both Smith and West would end up playing for the Lakers. 
WVU would go to a few more NCAA Tournaments before leaving the Southern Conference in 1968.