This offseason, college football saw more player movement than it ever had before.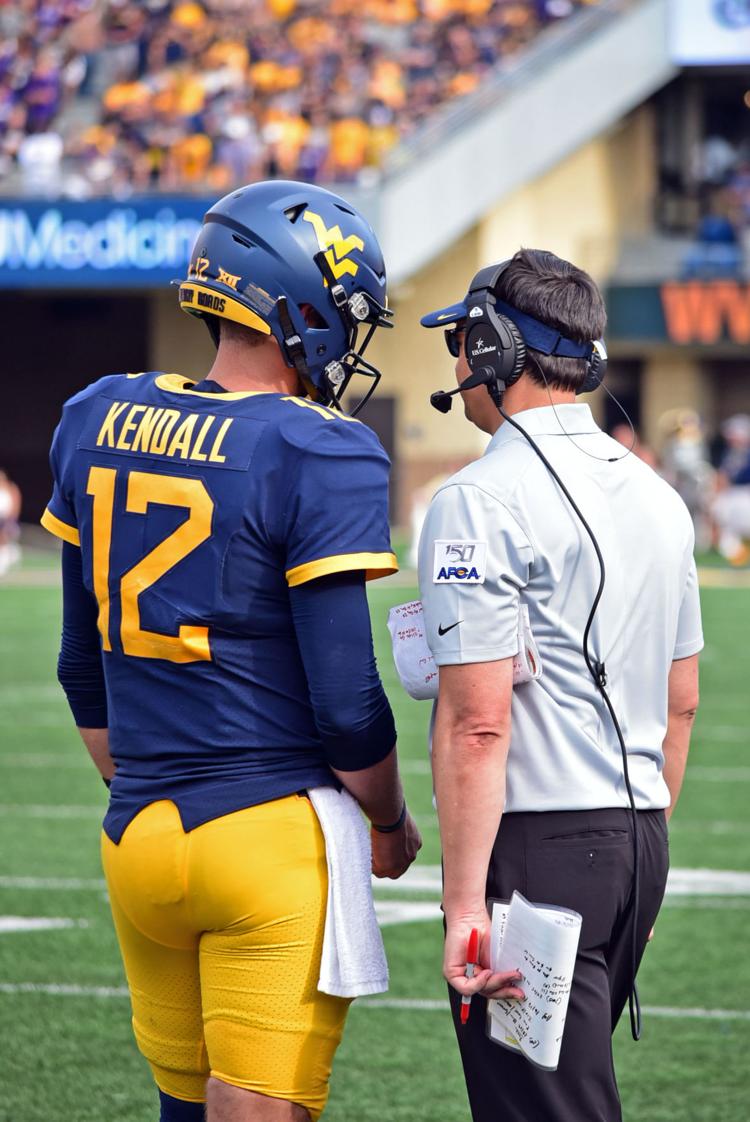 The NCAA transfer portal allowed players to move to new programs with ease and, most importantly, play right away without having to sit out a year. The biggest stories this offseason revolved around quarterbacks who were moving to new teams.
Former national champions Jalen Hurts and Kelly Bryant and former highly-ranked prospects Jacob Eason and Justin Fields all found new homes. While all of these quarterbacks have found early success with their new teams, WVU transfer Austin Kendall has struggled mightily through the Mountaineers' first two games.
Kendall has thrown for 397 total yards and three touchdowns with two interceptions. Against Missouri on Saturday, he completed 15 of 25 passes for 137 yards with the team's only score and two picks.
WVU head coach Neal Brown said Kendall needs to develop a sense of urgency in the pocket.
"He's gotta have a clock in his head where he understands, on a third down or a fourth down, the ball's gotta come out of his hand a little faster," Brown said. "And maybe his coaches don't need to press so early."
Kendall spent the last three years at Oklahoma serving as a backup and was in line to be the starter this season. Before that could happen however, Hurts, the former Alabama starter, announced that he was going to become a Sooner, pushing Kendall out.
So far in this young season, Hurts has looked like the best quarterback in the nation. In two Sooner victories, Hurts has completed 34 of 41 passes for 591 yards and six touchdowns. He has also ran for 223 yards and three more scores.
The quarterback that WVU got a first-hand look at Saturday, Bryant made his way to Missouri after losing the starting job at Clemson last season. Bryant threw for 150 yards and three touchdowns against the Mountaineers, bringing his season totals to 573 and five. Though the Tigers are only 1-1 on the season, many expect them to contend for their division.
Following the game, Brown said Bryant was just as impressive as he was expecting.
"I'd been down to Clemson. I'd watched him, and that's the first thing that stuck out to me, how big he was," Brown said. "He's a good player, he's a really good player. Credit to him, he played good enough to win."
Eason, who moved from Georgia to Washington, and Fields, who went from Georgia to Ohio State, both have had good starts to their seasons, as well. Both have their new teams at 2-0, and Fields has racked up 561 total yards and nine total touchdowns, while Eason has put up 511 passing yards with four scores.
When compared to other first year transfer quarterbacks around the nation, the start that Kendall has had looks even more disappointing for Mountaineer fans.
A tough test against the NC State Wolfpack at home this weekend will give Kendall and the Mountaineers another chance to make steps in the right direction.