It was this past Tuesday that, after a long battle spanning from spring practice through fall camp, WVU head football coach Neal Brown named Austin Kendall as the starting quarterback going into week one. 
Brown said Kendall received the role not because the other quarterbacks underperformed, but because he exceeded expectations.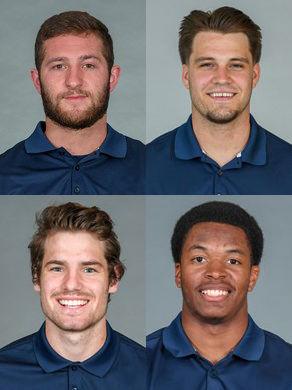 "I'll always say that Austin won the job. I'm not sure that any of the other guys lost it," Brown said. "He won the job by outperforming. That doesn't really change the way that I feel about the other guys."
Outside of Kendall, the opposing competitors included redshirt junior Jack Allison and redshirt freshman Trey Lowe III, as well as Bowling Green transfer Jarret Doege, who was granted immediate eligibility from the NCAA on Friday. Redshirt freshman walk-on Trent Jackson also worked with the quarterbacks during fall practice.
Thus, with a depth chart that deep, the decision to start Kendall has set somewhat of a domino effect in motion regarding the playing time of Doege, a junior.
For starters, Doege, who has two years of eligibility remaining, will redshirt this upcoming season. Doege would be able to play in up to four games and still take the 2019 season as a redshirt season, maintaining his four total seasons of eligibility.
"The plan for him, as of today, is for him to redshirt," Brown said on Tuesday. "He's coming off offseason surgery. He's been a little bit behind. I think that's the right decision for him."
Despite having the most experience of any quarterback on the WVU roster, Doege drew praise for the future growth that he could show as the year progresses.
"I think Jarret Doege's got a ton of potential," Brown said. "Jarret never really factored in just because I think, for him long-term, it's better for him to redshirt."
Brown did not mention a specific order to the depth chart after Kendall, but both Lowe and Allison stood out to him as fall practice progressed.
Allison, the 2018 backup to Will Grier, received extended playing time in the 2018 Camping World Bowl. However, while he has seen a depleted role due to the increased competition, Allison's impact spreads further than in between the hash marks. 
"I think Jack Allison's been as good a teammate as anybody we've had in our program over the last nine months," Brown said. "I believe in him. I think he's got skills that he can be in our league and be productive."
Lowe, who saw limited snaps in what was ultimately a redshirt season for him in 2018, has also made big strides in the eyes of Brown.
"Trey Lowe is a guy who prepared well and continues to improve and could potentially see some game action," Brown said, later adding, "I'm pleased with his progress, especially over the summer and into fall camp." 
So, while Kendall is the starter heading into week one, Brown is still confident the coaching staff can mold the rest of the quarterback room to be where they need to be.
"We'll continue to keep them all active and engaged and get them ready to go, if need be," Brown said.