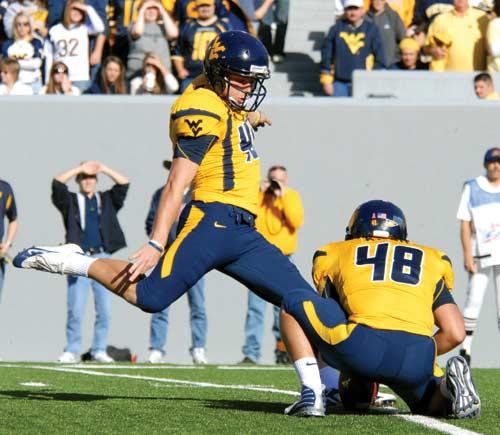 Following one of the most infamous football games in West Virginia history — the 2007 Backyard Brawl — Mountaineer fans wanted a scapegoat, someone they could blame for the impossible event they had just witnessed.
The scapegoat most settled upon was then junior kicker/punter Pat McAfee and, 11 years later, McAfee is still feeling the effects.
"It's hard to go back to a place where you get 27 death threats and then anytime you talk about them you get somebody to tweet you like 'oh yeah, but if you had made those two kicks we're national champs,'" McAfee said in a video posted to Twitter last Wednesday. "I'm just going to go ahead and block that place out of my life forever. I want to enjoy a happy life."
Entering the 2007 Backyard Brawl, the Mountaineers were the No. 2 ranked team in the national and, with a win, were almost assured a chance to play in the BCS National Championship. McAfee missed two kicks in the first quarter of the game, from 20 and 32 yards, respectively. Entering the game, McAfee had only missed two field goals all season, a 22 yarder against Maryland and a 56-yard attempt against Connecticut.
"Yes, I definitely should have made those two kicks," McAfee said. "I agree, I 100% agree, I wish I would have. I thought about disappearing after that game. It was a very terrible time in my life."
According to McAfee, he has not been back to WVU or Morgantown, presumably, since he graduated in 2008 and went to the NFL. He said that, when he left, he felt more like Mountaineer fans ran him out of town.
"So whenever people are like, 'Man, are you ever going to come back?' I'm like, 'Eh, I don't know, man.' I'm the all-time leading scorer there, I feel like I was one of the only All-Americans there, I played two positions, I did a lot there, I rode great coattails, got a chance to do a lot of that, but there are some people who are big, die-hard West Virginia fans who live and die with the West Virginia Mountaineers, because there's no professional teams in West Virginia. So I completely respect and appreciate that, but whenever I left it wasn't like it was a hero's parade on the way out, it was actually the complete opposite, like they couldn't wait for me to get out of there almost."
It seems, however, that enough time has passed to make things right. At the end of the clip McAfee says, "Time has kind of healed all wounds, I cannot wait to get back to Morgantown at some point."
If there was still any doubt, new WVU coach Neal Brown responded to McAfee on Twitter saying, "you are welcome back anytime!"
@PatMcAfeeShow you are welcome back anytime! Just let me know https://t.co/eiotKXOf7P

— Neal Brown (@NealBrown_WVU) September 18, 2019
During his weekly press conference, Brown said, "(McAfee), just like anyone else that has a part of this program, is welcome back anytime," Brown said. "I look forward to the day he comes back. I hope he does."