Distraught and defeated, first-year West Virginia head football coach Neal Brown entered the team room in the Milan Puskar Center for his postgame press conference.
It was Saturday, Nov. 9. Moments earlier, WVU had lost its fifth straight matchup: a 38-17 defeat at the hands of the Texas Tech Red Raiders. The loss dropped the Mountaineers to 3-6 on the season.
After taking questions from the media, Brown leaned in to the microphone and made a statement.
"We're not playing very well as a football team right now. We've got a ton of work to do in this program. This is probably going to be one of our worst days but I'll tell you right now, we will build a successful program here," Brown said.
"It doesn't look like it right now, but because of [the fans] and, for them, we will be successful here. We will absolutely be successful here. There's some growth pains right now and it is what it is. Nobody's more frustrated with anything that's going on on the football field than me. I can promise you that."
Of the team's remaining three games, the Mountaineers won two of them and finished with an overall record of 5-7.
With a losing record and a bowl appearance out of the question, the West Virginia Mountaineers seem to be at a low point. Yet, Brown holds his head high, as the rebuild of a college football program is one that he has experienced before.
When he took over as head coach at Troy University in 2015, Brown inherited a team that had finished the previous season with a 3-9 record. Despite facing many struggles in his first year, he led the Trojans to 31 wins and three bowl appearances in the following three seasons.
In the midst of the challenges of West Virginia's rebuild, the Daily Athenaeum spoke to various people that were in or around the Troy football program during Brown's tenure.
Portions of the following interviews have been edited for length and clarity.
•     •     •
In the Fall of 2014, Troy University was looking for someone to lead their football program. After 24 seasons, incumbent head coach Larry Blakeney had opted to retire, leaving the Trojans searching for a new head coach for the first time since 1990.
Jason A. Reeves, Mayor of Troy, Alabama (2012-Present): When Coach Blakeney was there, we defeated Missouri and Oklahoma State and Mississippi State, won some bowl games and won five Sun Belt Conference championships in a row. It had been a very proud program but we were down on our luck at the end of Coach Blakeney's tenure.
John Hartwell, Troy athletic director (2012-2015): I wanted somebody that could be a jump starter, and I know that's kind of a different term, but with the success that the program had experienced in the three or four years prior to Neal getting there, some of the energy and passion in the program had dissipated. I wanted somebody who could jump start that again.
In Blakeney's last season, the Trojans finished with a record of 3-9. Combined, in his last four seasons at the helm of the program, the team had a combined record of 17-31. They had not appeared in a bowl game since 2010, the same year in which they had secured their most recent conference championship.
Hartwell: Neal, when you looked at his track record — and obviously he spent some time at Troy as a very young offensive coordinator — but subsequently, what he did with [head coach Tommy] Tuberville at Texas Tech and what he did at Kentucky, as well and having familiarity with Troy — knowing about it — those were key factors.
Reeves: I was actually on the advisory committee that worked with the athletic director on the search. It's easy to say that we liked Neal.
Hartwell: One of the things that made Neal so attractive at that time, and it's continued to serve him well, is he understands the big picture.
I'll never forget, as I was going through potential candidates, my wife — she knows a fair amount about sports. She's an AD's wife, obviously, but she looks at things from a different perspective. I'll never forget, she was kind of going through some resumes and she actually looked at Neal's and the thing that jumped off the page, she goes, "Wow, he's got an MBA from UMass." She goes, "There's probably not a whole lot of head football coaches out there that have an MBA," and I thought that was an interesting take but it's very true in that Neal, while he relates great with the student-athletes and is a tremendous recruiter, he's got a lot of skills that are like a CEO.
Reeves: He was a known commodity for us (having previously been at Troy).
Hartwell: I actually went to his house in Lexington, Kentucky, to do the interview. Gosh, we probably sat there and talked [for] 3-4 hours that evening, not just about football. We talked a whole lot about football and philosophies in terms of offense [and] defense — obviously he's an offensive mind, but [he] understands the big picture — talked about recruiting, but we talked about just some life stuff too because, with some common friends and some people that we knew who spoke very highly of him, I wanted to spend some time getting to know him better.
After spending four hours with him that night, he was as advertised.
On Dec. 1, 2014, Brown was officially introduced as Blakeney's successor. The then-University of Kentucky offensive coordinator won the job, beating out reported candidates such as LSU's Frank Wilson, East Carolina's Shane Beamer and UAB's Bill Clark.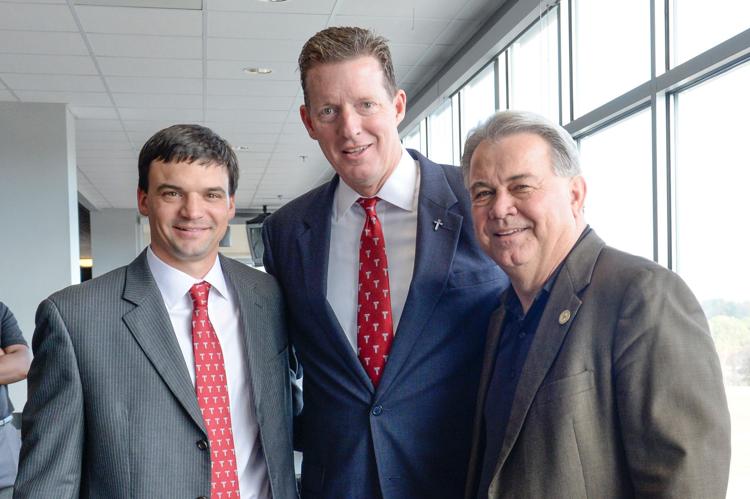 Reeves: We knew there wasn't going to be a snap of the finger and things were going to begin to move forward. We knew it was going to be a rebuilding situation. Neal sort of put the mantra in of "Rebuild the Wall" in reference to the walls of the ancient city of Troy. We realized that there was going to be a process to go through. We knew that it was going to take some time, but we had a lot of confidence in Neal to get that done.
Hartwell: He bought in, and he was everywhere. He was at baseball games, softball games, little league games with his kids, heavily involved in the community. He understood what it meant to totally interject himself into [the] campus community. In a small town like Troy, the town and gown relationship or the intertwining between the community and the university is so strong, and he fully got that from day one.
Heading into fall practice in 2015, expectations were for the team to simply find a way to improve after ending the previous season with a 3-9 record.
Zach Branner, Troy offensive tackle (2015-2018): That's really what it was our first year, just doing the little things correctly.
Jon Sumrall, Troy assistant head coach/linebackers/special teams (2015-2018): As a coach, obviously you want to win every game, but you can't worry about the results. You have to worry about what you're doing every day to obtain the results that you want. So, the biggest focus was building a foundation for building a program.
Reeves: I want to say that we had a really close game, like a triple-overtime loss to Appalachian State that year. I remember listening to the radio to that game and really feeling like we were making progress.
From my standpoint, while nobody likes being 4-8, we felt like we were moving in the right direction and Neal was doing the things that needed to be done. He was making inroads in the community, he was recruiting talented players, he was doing a great job with his staff.
Sumrall: We were by no means OK with losing — losing is never okay — but we also could see growth, development, character and fight in our football team. At the end of the day, if those things are there, then you stick with it and positive things will come. That was a game in that first year that definitely, I think, built some confidence that we can do this.
Kenny Edenfield, Troy offensive coach (2008-2017): It just takes one game. Those guys, they finally see what you're talking about and, to them, they can just picture it now.
Sumrall: Our first year, though we didn't win as many games as we would've liked to have, we did lay a foundation for success.
Deontae Crumitie, Troy center (2015-2018): We all bought in to what [Brown] was trying to do.
Reeves: While no one is ever satisfied with 4-8, we could see the foundation was being laid for something special.
Come the end of Brown's first season, Troy finished with a record of 4-8. Year two of the Brown era, however, turned out to be a breakthrough as the Trojans were able to drastically improve.
Branner: Going into our second fall camp, we know what's expected. We bought in because we now understand what Coach Brown was expecting of us. We now have an understanding, we know what we can do, and it showed.
After opening the season with a 57-17 win over Austin Peay, the Trojans put up a strong fight against No. 2 Clemson in Week 2. While Troy lost a close one, 30-24, the game had a tremendous impact for the program.
Sumrall: We were substantial underdogs. I don't know what the number was, but I'm sure we weren't expected to compete in the game.
Crumitie: We came out [and] Coach Brown was like, "Nah, don't blink. Go out there and ball."
Edenfield: I remember we shouldn't have lost it, I know that. [Laughs]
Branner: That was a hard-fought loss.
Sumrall: I remember our guys physically going into a hostile environment and competing at a really high level and not backing down and not flinching and competing for four quarters.
Branner: It was just the little things that came down to play in that game. If we didn't have a turnover or we didn't have — I think it was a holding call — the game might've been different. Now, we did have a blown call by the ref — [Clemson] did fumble the ball on the goal line — but that's neither here nor there.
Crumitie: It opened up a lot of people's eyes in that game. We all started playing on a whole 'nother level.
Branner: I know it's Troy and everybody thinks the Group of Five is a lot different — and, essentially, it is — but it goes back to the mentality. If you go in there thinking you're defeated, you're gonna get your ass whooped.
Edenfield: Anytime you play those bigger programs, usually what happens is the momentum starts to turn and you gotta hang on. We just weren't able to hang on in that game.
Reeves: Anyone that watched that game really could see that Troy could line up with anybody in the country and not always win but have a puncher's chance.
Following the Clemson game, the Trojans went on a seven-game winning streak. With an 8-1 record, the program earned its first ever AP Top 25 ranking on Nov. 13, 2016.
Branner: I think Coach Brown had a meeting that day or it was that Monday [saying] just, 'Hey, we're ranked Top 25 which means the target on our back is bigger. Everybody wants to beat us.'
Sumrall: It was a big deal, first time in school history in FBS being ranked. Going on a win-streak like that was really fun and exciting for the town and the university community. It was a big stepping stone in building that program and was a fun experience.
Branner: It was big because we saw the change in momentum from how people supported us.
Edenfield: It felt like we had kind of gotten the program where it needed to get to and we were headed in the right direction.
In the team's first game after achieving its No. 25 ranking, the Trojans were defeated by Arkansas State, 35-3. Troy ended the season with a 10-3 record and punched its ticket to the Dollar General Bowl — the team's first bowl appearance since 2010.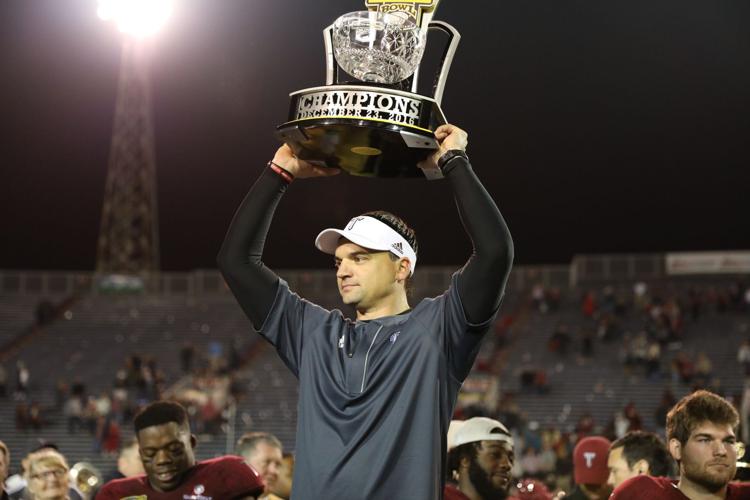 Branner: My first ever college bowl game — it was amazing. Just the atmosphere, being on ESPN — it was an exciting time.
Edenfield: It wasn't just going to the bowl game. Neal did a really good job of saying, from day one, "We're not going to this bowl game, we're going to win this bowl game."
Sumrall: When you start to see success and experience success, you get hungry for more of it. I think that just kind of started to cycle through and cycle over to where our guys were hungry to go figure out how to keep doing what we were doing.
Following the bowl game — a 28-23 victory over Ohio — expectations were high for the Trojans. Despite opening the 2017 season with a loss to No. 22 Boise State, Troy rattled off four straight wins, including an upset victory at No. 25 LSU.
Crumitie: [Brown] coaches every game the same. He used to always say, "The next big game is our next game."
Branner: That was probably the best week of my time at Troy because that was when it just was clicking. We had a great week in practice. Preparation was good. No one did too much, no one did too little. It was just perfect.
Edenfield: Watching them on film, you go 'man, these guys are really good.'
Sumrall: I remember going in to Baton Rouge and our guys winning a physical battle that night.
Edenfield: We put a good plan together and our kids were making plays and we sustained that momentum.
Riding its wave of success, Troy went into the 2018 season projected to finish near the top of the Sun Belt once again. The team finished with a 10-3 record, as well as another appearance in the Dollar General Bowl.
Branner: The short time he was at Troy and how much he helped us, it was just real evident how good of a coach he is on and off the field — like how good of a person and coach he is — and the coaches he brings with him. To Al Pogue, Matt Moore, Coach [Sean] Reagan to Coach Vic [Koenning], Coach [Jordan] Lesley — all those guys are great coaches, but they're also great people.
Troy's appearance in the 2018 Dollar General Bowl — a 42-32 victory over Buffalo — was the last game Brown would coach for the Trojans as 19 days later he was introduced as the 35th head football coach in West Virginia program history.
Sumrall: Neal's very thorough, he's very detailed, he's very conscientious and I knew he wouldn't just take the first opportunity. I knew he would take something that he felt like was a special place because he's a guy that's gonna invest in the community, invest in the town, invest in the campus. That's the way he does it, and he does it the right way.
Hartwell: He is a star; he continues to be a rising star in this business. He obviously has a vast football knowledge. He has an unbelievable way to relate to student-athletes and, from a CEO perspective, he understands the big picture. He's great with donors. I think, other than his opponents, who probably don't like it when he beats them, I think you'd be hard-pressed to find a whole lot of people who don't have very positive things to say about Neal.
Crumitie: He's one of the best coaches I've known out there.
Edenfield: He's just a really smart guy but he's also a guy — he's fun to hang out with some. That was the other thing, he's able to bring both of those together.
Reeves: I think that Neal just works that hard and believes that much and believes in the community he's in, believes in the young men that he's charged with helping, believes in his staff and their families and so, I think that anyone who opens their eyes to see that can see that he's different.