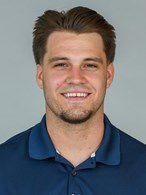 The plot has thickened regarding the starting quarterback position for the Mountaineers this season.
G. Allan Taylor of The Athletic reported Tuesday morning that quarterback Jarret Doege received a transfer waiver from the NCAA, making him immediately eligible. The report was later confirmed by a source within the athletic department.
The decision likely makes the position battle a three-way race as Doege will battle it out with Austin Kendall and Jack Allison, both former transfers themselves.
Doege has the edge in playing time as, at Bowling Green State, he saw playing time in 19 games. The junior threw for 4,041 yards and 39 touchdowns during his two seasons under center for the Falcons.
It is unknown at this time who the starting quarterback will be, but a decision is expected before the Mountaineers kick off against James Madison on Aug. 31.