Although former head coach Frank Cignetti Sr. had a short career at West Virginia University, he left a lasting legacy on the school's football program.
Cignetti coached the Mountaineers for just four seasons from 1976-1979, finishing with a 17-27 record before stepping down. The former head coach also backed the building of Milan Puskar Stadium, which opened in 1980.
Last week, Cignetti died at the age of 84.
"Condolences to the family of former assistant and head coach Frank Cignetti," West Virginia head coach Neal Brown said. "I got a chance to visit his son before the Pitt game, and it was pretty clear what Morgantown and being a part of this community meant to that family."
While at West Virginia, Cignetti would battle cancer during the 1978 season and was the coach that bridged the gap between Bobby Bowden and Don Nehlen.
Following his time at West Virginia, Cignetti would go to Indiana University of Pennsylvania (IUP), where he would be the director of athletics in 1982 and then the head coach of their football team in 1986.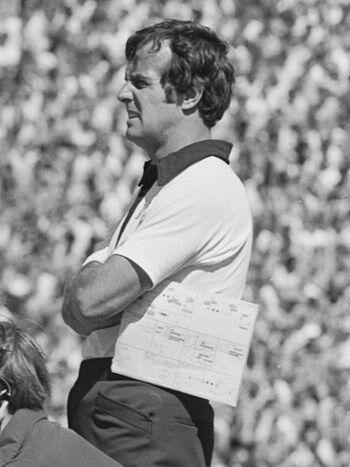 Cignetti coached at IUP from 1986 until 2005, compiling a 182-50-1 record, while leading IUP to the Division II playoffs 13 times.
"Coach Cignetti meant so much to IUP, and I know IUP meant so much to Coach Cignetti," IUP President Michael Driscoll said. "He always strove to help the university any way he could and served as an outstanding ambassador for IUP and its student-athletes. The number of lives he impacted is too great to count, but it's easy to be seen by those who played for him, coached with him, or worked alongside him."
Cignetti has two current sons who are in the college coaching ranks. Frank Cignetti Jr. is the offensive coordinator at Pitt, while Curt Cignetti is the head coach at James Madison.
"He was a great man but he could be very critical when it came to football," Curt Cignetti said of his father. "My dad influenced so many people. Kind of a legend back where he spent most of his life and was really a good person. He was a great man."
Cignetti Jr. take to Twitter to share his thoughts on his dad's passing, saying he was proud to be his son, player and assistant through the years.
"You are my hero, love you so much," Cignetti Jr. said.
Cignetti Sr. would be inducted into the College Football Hall of Fame in 2013. His career began at IUP as a player, graduating in 1960 and would end his career in 2005 coaching at his alma mater.