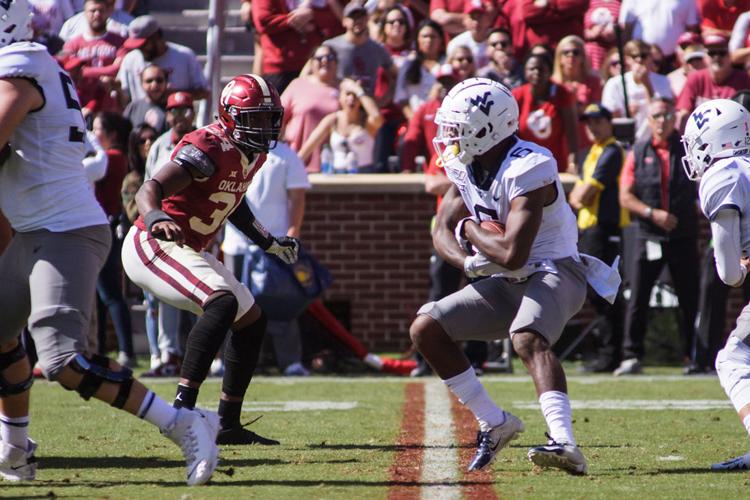 Entering this season it looked like West Virginia was going to have one of the most intriguing stables of running backs in the entire Big 12.
Now, it is seven weeks into the season and West Virginia not only has the worst rushing attack in the conference, but one of the worst in the entire country.
Entering the year with a running back room of Kennedy McKoy, Leddie Brown, Martell Pettaway and Alec Sinkfield, expectations were high for the Mountaineers' running game.
In seven games, however, the Mountaineers have run the ball 213 times yet have only managed to gain 617 yards on the ground.
Following Saturday's loss to Oklahoma, WVU head coach Neal Brown said he is not sure what else they can try to spark the running game.
"We've tried about everything," Brown said. "What happens is, you get 2 or 3 yards per carry but then when you have a negative play, then those 3 yards aren't good enough. We've got to do better."
Both the 2.9 yards per carry and the 88.1 yards per game averages are well below what an offense looks for in order to be successful. No other Big 12 team even averages less than four yards per carry or less than 150 rushing yards per game.
A year ago, WVU amassed 1,931 rushing yards throughout the season, averaging 4.5 yards per carry and 160.9 yards per game.
Kennedy (802 yards), Pettaway (623) and Brown (446) each rushed for more than 400 yards. Yet, a year later, no single WVU player may hit that mark. McKoy (188) and Brown (184) are not even close to reaching 400 yards on their current paces, Pettaway is expected to redshirt and will not play again this season and Sinkfield, despite starting several games at running back, cannot seem to find carries, toting the ball only 17 times thus far in 2019.
Additionally, WVU's ineptitude running the ball has held the entire offense back all season long. When the running game has been successful in 2019 is when the team has had its best offensive performances. On the flip side, games in which the running game has struggled have been disastrous for the WVU offense.
Against the NC State Wolfpack, West Virginia ran for 173 yards on 28 carries, a 6.2 yard per carry average. The offense also had its best output that game, scoring a season-high 44 points. In the games against Kansas (192 yards, 4.0 average) and Texas (96 yards, 4.2 average), the offense also performed well, scoring 29 and 31 points, respectively.
WVU's worst performances have come when it failed to move the ball on the ground. Against James Madison (34 yards, 1.4 average) the team scored 20 points, against Missouri (30 yards, 0.9 average) seven points and against Iowa State (41 yards, 1.5 average) and Oklahoma (51 yards, 1.7 average) the Mountaineers only mustered 14 points in each game.
Brown said he expects the running game to improve as they approach the end of the season, but he does not think it will end up being a strength of the team this year.
"I think we will be better finishing the year, but it's not going to be a position of strength until our guys get older and we're able to make some personnel changes."
With a 3-4 record and only five games left in the season, West Virginia's ability to jump start the running game may very well determine where this team ends up at the end of the year and if it can make it to a bowl game.