When the transfer portal was implemented in college football in 2018, it changed roster management immediately.
In many cases, players no longer had to receive permission from their current team to transfer. Additionally, players that transfer can file for a transfer waiver from the NCAA and become immediately eligible. This makes it so that players have more mobility and freedom than ever before, something that can help, or hurt, any program.
In just the first year, WVU has seen the benefits and the hardships with the new process.

Transferred Away:
Matt Jones - Center, transferred to Youngstown State
A redshirt junior in 2018, Jones transferred to YSU as a graduate transfer with one year of eligibility left. Jones, a Hubbard, Ohio, native, returns home to play in front of a hometown crowd with the Penguins. Jones ended his WVU career with 25 consecutive starts at center. His departure has left a void on the offensive line that has caused redshirt junior Josh Sills to shift from left guard to center this season.
Jordan Adams - Cornerback, transferred to UMass Amherst
Adams also leaves WVU as a graduate transfer with one year of eligibility remaining. Adams saw time in eight games in 2018 and would have provided depth to a depleted WVU secondary in 2019.
Derrek Pitts Jr. - Cornerback, transferred to Marshall
As a sophomore in 2018, Pitts played in nine games, recording 27 tackles with one interception and one forced fumble. Pitts would have likely competed for a starting role with the Mountaineers this season, but he will instead play out his remaining two years of eligibility with the Thundering Heard.
Kenny Robinson Jr. - Safety, in transfer portal
Robinson was dynamic in his two years at WVU, recording a team-high seven total interceptions between 2017 and 2018. The junior's departure, along with Dravon Askew-Henry's graduation, leaves a hole at both starting safety spots in 2019. Robinson entered the transfer portal in June and his status is unknown.
Reserve safety E.J. Brown also entered the transfer portal and his status is unknown.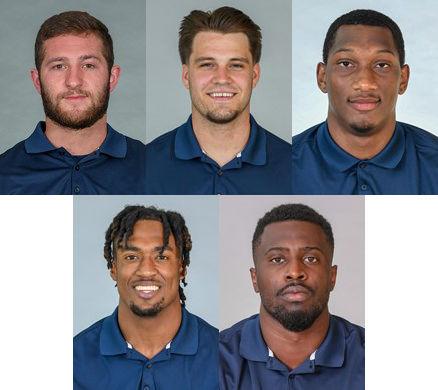 Transferred In:
Austin Kendall - Quarterback, transferred from Oklahoma
Kendall saw little playing time at Oklahoma, competing for the starting job and serving as the primary backup to transfer quarterbacks in each of the last two seasons. Baker Mayfield in 2017 and Kyler Murray in 2018 both transferred to Oklahoma and beat out Kendall for the starting job. With one year of eligibility remaining, and another transfer quarterback in Jalen Hurts coming to Oklahoma, Kendall decided to transfer himself and landed in Morgantown. Kendall beat out fellow transfer Jarret Doege, Jack Allison and Trey Lowe III to be named WVU's starter heading into 2019.
Jarret Doege - Quarterback, transferred from Bowling Green
Doege enjoyed great success at Bowling Green during his two seasons there. He started five games as a true freshman in 2017 and all 12 games as a sophomore in 2018. In that time, Doege threw for 4,041 yards and 39 touchdowns while only throwing 15 interceptions. When Kendall was announced as the starting quarterback, head coach Neal Brown also announced that Doege had minor surgery over the summer and will redshirt this season.
Sean Ryan - Wide receiver, transferred from Temple
After losing all three of its top receivers following the 2018 season, WVU as in desperate need of wide receiver talent for 2019. Ryan was granted eligibility for this season this past Friday and should provide just that. Ryan comes in as a sophomore with three years of eligibility remaining. Ryan has impressed throughout the summer and figures to be a big part of the Mountaineer offense this season.
George Campbell - Wide receiver, transferred from Florida State
Campbell did not have the career at FSU that many expected him to have. Hampered by injuries, Campbell found himself buried on the depth chart all four years as a Seminole. Coming out of high school, Campbell was rated a five-star recruit and the seventh best prospect in the country by ESPN. However, in four years at FSU, he only totaled 13 catches for 206 yards and no touchdowns. He will have one year of eligibility at WVU.
Reuben Jones - Defensive line, transferred from Michigan
In four years with the Wolverines, Jones saw time in only 15 games. Thus far at WVU however, Jones has drawn high praise from Neal Brown, specifically for his play in WVU's two preseason scrimmages.