West Virginia linebacker Shea Campbell is seeking a transfer, Mike Casazza of 247Sports reported Tuesday.
Campbell, a native of Morgantown, saw limited play during his five years with the Mountaineers, redshirting in 2015 and sitting out the following two years.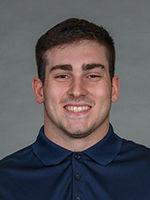 During his redshirt junior season, Campbell started in six games at mike linebacker. He tallied 40 total tackles and an interception.
As a senior in 2019, Campbell only started in one of his 11 games played. He finished the year with 39 tackles, ranking ninth on the team.
According to Sean Manning of the Dominion Post, due to his exhausted Division I eligibility, Campbell will have to move down a level if he wants to play next season.
Can confirm @mikecasazza's report that Shea Campbell is in the transfer portal. His eligibility at WVU was up, so he could not return to the Mountaineers, but had another year if he transferred down, so he'll be at the D2 level. More to come on this odd rule.

— Sean Manning (@SeanManning_DP) May 27, 2020