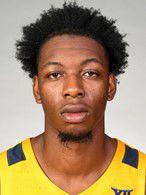 For most of his collegiate career, WVU's Gabe Osabuohien has been a non-factor when it comes to being a scoring threat. 
In his first season at Arkansas, he averaged 1.1 points per game. Despite playing in 20 games, he only attempted 25 shots from the field.
During his second season under head coach Mike Anderson, that number jumped up to a meager 3.1 in the forward's sophomore season.
Upon transferring to West Virginia prior to the 2019-20 season, scoring was not a concern for Osabuohien. He just wanted to fill a role that the Mountaineers needed.
"I didn't expect to play no role," Osabuohien said. "My mindset was to come in here and see what the team lacked and just be whatever the team lacked. Coming off the bench, you see in the first couple minutes of the game and you're looking to see how you can impact the game as soon as you get in."
In his last two games however, the junior has made a big scoring impact for the Mountaineers.
In Monday's 97-59 drubbing of the Texas Longhorns, Osabuohien ended the night with nine points. It was his second-highest scoring total of the season, following a 10 point performance against Kansas State on Saturday.
"Just being more aggressive," Osabuohien said when asked about what changes he has made offensively. "Them having to guard me is going to make it harder on everybody. It'll make my passes easier when I'm being guarded. Just being more aggressive and not being too conservative."
Where he has been lacking offensively, Osabuohien has made up for it in other aspects of his game. Known for his tenacity and playmaking on defense, he entered Saturday's game leading the team in steals while also ranking third on the team in rebounding.
He had also been contributing to the team's ball movement, ranking second on the team in assists before adding two more against the Longhorns.
Despite success as a role player, his teammates say it was only a matter of time before the shots would begin to fall for Osabuohien.
"He started looking at the hoop finally," guard Jermaine Haley said. "I've been telling him because he's been getting looks right in front of the rim early in the season. I think it was him just getting comfortable in the offense and comfortable being on the floor with us."
West Virginia head coach Bob Huggins agrees, saying that Osabuohien's work is finally paying off.
"Gabe puts time in. Gabe puts a lot of time in. When guys don't get in the gym, they don't get extra shots up, when they don't show some appreciation, it gets them. And we've had guys being guilty of that," Huggins said.
"Gabe gets in the gym."