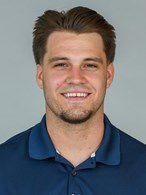 With three games remaining in the regular season, the West Virginia football team has a new man under center.
On their first offensive drive, junior quarterback Jarret Doege led the team out onto the field. He received the nod over Austin Kendall, who had started every game thus far this season.
ESPN sideline reporter Olivia Dekker said that she was told by head coach Neal Brown before the game that the team was looking "for a little bit of a change."
This is Doege's first career start at West Virginia. It is his first start since Nov. 23, 2018, when he was at Bowling Green State University.