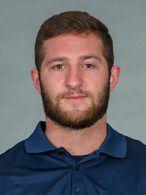 West Virginia starting quarterback Austin Kendall will start Saturday's matchup against Oklahoma, head coach Neal Brown said on his Thursday night radio show. 
"Barring any changes over the next 48 hours, he will line up behind center on Saturday," Brown said.
Kendall had been questionable to start after suffering an undisclosed chest injury in the first quarter of last Saturday's 38-14 loss to Iowa State.
This will be Kendall's first game against the Sooners after transferring from Oklahoma in January.
The opening kickoff of Saturday's game will come at noon from Oklahoma Memorial Stadium in Norman, Oklahoma. The game will be televised on FOX.