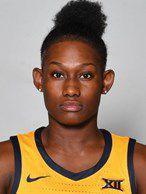 West Virginia women's basketball player Tynice Martin appeared before the Monongalia County Magistrate Court on Wednesday afternoon to enter into a no contest plea for battery.
The plea stipulates that Martin, 22, serve one year of probation and have no direct or indirect contact with the victim. Additionally, she is to serve 50 hours of community service, comply with all conditions from West Virginia University and have no further violations.
If she is to violate any terms of the agreement Martin could face up to a $500 fine and/or up to one year in jail.
On the evening of July 15, police responded to a Twigg Street residence in Morgantown's First Ward neighborhood, according to court documents. Martin had allegedly entered the house and pulled the hair of her ex-girlfriend, who lived at the residence. 
Outside the house, Martin, as well as a woman identified by the name "Alexandria," then shoved the ex-girlfriend against a storm door where she was then choked, beaten and shoved, according to the documents. Martin had been charged with domestic battery due to the incident.
This was not Martin's first brush with the law since coming to WVU as she was previously cited for possession of a controlled substance on Dec. 29, 2018. She later pleaded no contest to the possession charge before paying a fine.
Martin, who was indefinitely suspended in August for a violation of team rules, did not play in the team's exhibition against Salem on Oct. 29.
During the 2018-19 season, Martin averaged 18 points per game — a team high. A senior, she currently ranks 11th in program history with 1,588 points scored.
More information will be added as it becomes available.