As the West Virginia women's basketball team continues to nurse injuries, it has left the the Mountaineers searching for answers.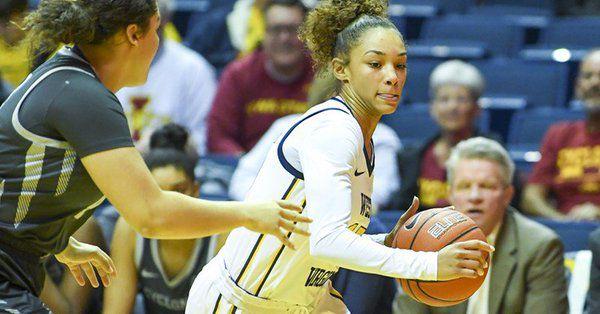 WVU (13-5, 4-3 Big 12) currently has just eight players in its rotation and is struggling because of it, especially in its 32-point loss to Baylor on Sunday.
The Mountaineers are most notably without four-year starter Katrina Pardee, as she continues to be out with an ankle injury. 
Pardee's absence has created a hole in West Virginia's system, a hole that they've learned to play with, but still one that is forcing the Mountaineers to change how they play.
"I think we've improved, but we have to reinvent ourselves all the time," said WVU head coach Mike Carey. "We started out the season with a lot more players and then we had injuries. And here recently, Katrina went down so we had to reinvent ourselves again. 
"It seems like we just keep changing our offense, our defense, based on the personnel we have, and it's hard to become consistent that way," he said.
Pardee was key to how WVU played the past four years and it culminated in her averaging 31.8 minutes court time per game this season, but, without her, it has forced the Mountaineers to find new players to fill those minutes.
Although West Virginia suffered an embarrassing defeat to Baylor, Carey might have found that new player in junior guard Lucky Rudd.
Rudd has contributed off the bench all season for West Virginia, averaging 7.3 points and 2.1 rebounds per game, but she is now in the starting lineup and playing her most minutes of the season.
Before Pardee's injury, Rudd was averaging 24.7 minutes of play per game, but with Pardee out, Rudd has upped it to 37.5 minutes per game.
"She understands the game," Carey said on Rudd. "She plays extremely hard. She can score the ball, but she also plays extremely hard and plays within the system."
Rudd is a larger part of the Mountaineers' offense now as she is replacing Pardee and has increased both her points and shot attempts per game because of it. 
In the seven games Rudd played with Pardee, Rudd had just one double-digit scoring game, but now, in West Virginia's four games without Pardee, Rudd has already had three games in double-figures. 
With her new playing time Rudd has increased her scoring by six points per game averaging 13.8 points per game as a member of the WVU starting lineup. 
Her increase in scoring is a reflection of her boosted shot attempts, though, as she has upped her average from 5.3 to 8.3 shots per game.
Rudd was even the Mountaineers' leading scorer in their win against Iowa State on Jan. 16 when she finished with 22 points. 
Even though Rudd's role has drastically expanded in the last few weeks, it will continue to grow as she gains confidence and Carey is able to trust her more.
With more trust from her head coach will come increased responsibility and more scoring chances, which will help even more in her attempt to keep the starting job once Pardee returns.