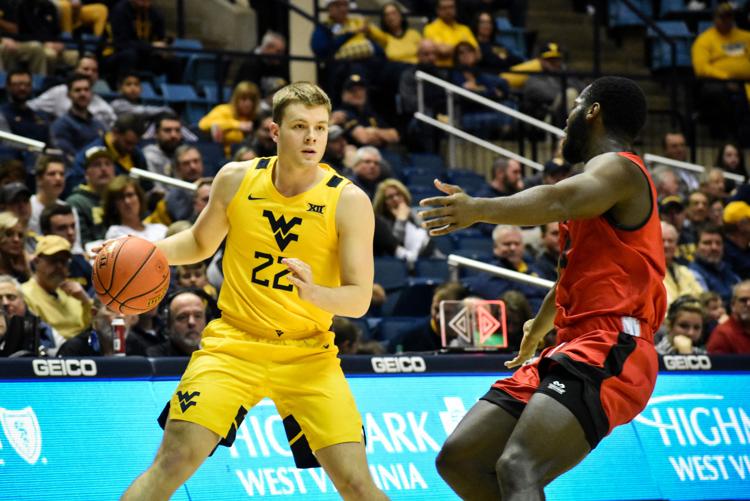 Coming in with a reputation as an elite shooter, expectations were high for junior college transfer Sean McNeil.
At Sinclair Community College in Dayton, Ohio, McNeil made a name for himself and etched his name into the record books, setting school records for points in a season (921), threes made in a season (132) and points per game.
Last season, he led the nation in scoring at 29.7 points per game, made almost half his shots from the field and shot 43% from the three-point line.  Over 32 games, McNeil had 30 or more points in 15 of them, including 40 or more six times and 55 points in a game to set another school record.
Through his first nine games in a WVU uniform, McNeil has started to become a key piece in the Mountaineer offense, averaging about seven points per game and shooting 43% from three.
"I got a lot of trust in Sean," West Virginia head coach Bob Huggins said of McNeil.  "Sean's a smart kid. He wants to be a good player and he really wants to help us."
In Thursday's 84-53 win over Austin Peay, McNeil had nine points, shooting 3-of-6 from the field and 1-of-3 from three in 17 minutes of action.  He was coming off a game where he led the team in scoring against St. John's, pitching in 13 points and hitting a clutch three to tie the game with just over a minute to play.
"The scouting report's out now," McNeil said after the win against Austin Peay.  "A lot of people are going to run at me (with) hard closeouts (and) things like that but I know I have the ability to put it on the deck a little bit and create for myself."
In the first four games of the season, McNeil only registered more than four points once. He started out 4-of-14 from field and only 3-of-9 from three-point range.
In the last five games, he has improved his shooting and has gotten more playing time because of it.  Over his last five, he is shooting 14-of-29 from the field and 10-of-21 from three, both coming out to 48%.
"Guys like that, they just got to see the ball go through the net," senior Jermaine Haley said.  "Sean's been shooting it great since he got here, but we've been telling him that it's a little bit different when you get into games.  He's been hitting his shots so hopefully he can continue to make shots for us."
Being at the Division I level, McNeil is coming off the bench for the first time in his career.  While this isn't what he's used to, it's not going to stop him from competing.
"It's just kind of my role," McNeil said.  "I've accepted it. It's not going to deter how much I work.  I mean, obviously, I want to start so I'm going to keep working and no matter if I start or not, I'm going to keep playing hard."