Following in the footsteps of Jerry West, the West Virginia basketball team has retired the No. 44 once again — this time to honor former Mountaineer Rod Thorn.
Thorn had his jersey number retired during halftime of West Virginia's game against Oklahoma on Saturday. He is the third Mountaineer to receive the honor of having his jersey number retired, following Jerry West and the late "Hot Rod" Hundley. 
Rod Thorn Jersey Retirement: Feb. 29, 2020
"To be honored by your school, to be honored in the state that you grew up (in) is a tremendous thing," Thorn said at a press conference prior to tipoff. "I am very, very appreciative of this."
Thorn came to Morgantown in 1960, playing on the University's freshman team. He joined the varsity squad the following year, starring under head coach George King for the next three seasons.
Over his three seasons with the varsity team, Thorn averaged 21.8 points per game. The Mountaineers finished first in the Southern Conference each season, and only lost 18 total games.
"What I really remember here are the people, the fans — who are fantastic — the coaches, the players I played with, the trainers — the people you dealt with on a day in and day out basis," Thorn said. "I tend to think more about that than any specific games."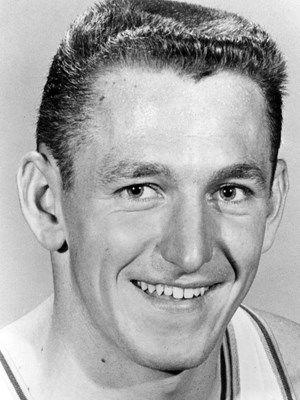 "You're going to have really good games, (and) games not so good. We had good teams when I was here, but it was the people."
Following his graduation in the spring of 1963, Thorn began a long career in the NBA. He started as a player, being drafted with the second overall pick by the Baltimore Bullets in that year's draft. His 8-year career included stops with three other teams.
After his retirement as a player, Thorn shifted to the bench. He served as an assistant coach until 1975, when he became the head coach of the Spirits of St. Louis of the American Basketball Association. He also later manned the helm of the NBA's Chicago Bulls.
Since then, Thorn has served in a variety of capacities around the league. He has made stops in cities such as Chicago and Philadelphia, among others.
Despite his travels, it was in the Mountain State where Thorn's life of basketball took its roots.
"I played on an organized team when I was five years old," Thorn, a native of Mercer County, said. "The only reason I was on it was my dad was the coach."
Thorn's father, a former professional baseball player, had encouraged him to pursue a baseball career.
"He was throwing curveballs to me when I was 6 years old," Thorn said. "He wanted me to be a baseball player."
In retrospect, opting for basketball seems to have paid off for the 78 year old.
Among all the successes Thorn has seen throughout his life, his jersey retirement ranks highly.
"I've been fortunate enough to have certainly more than my share of big days," Thorn said. "This is certainly one of them."