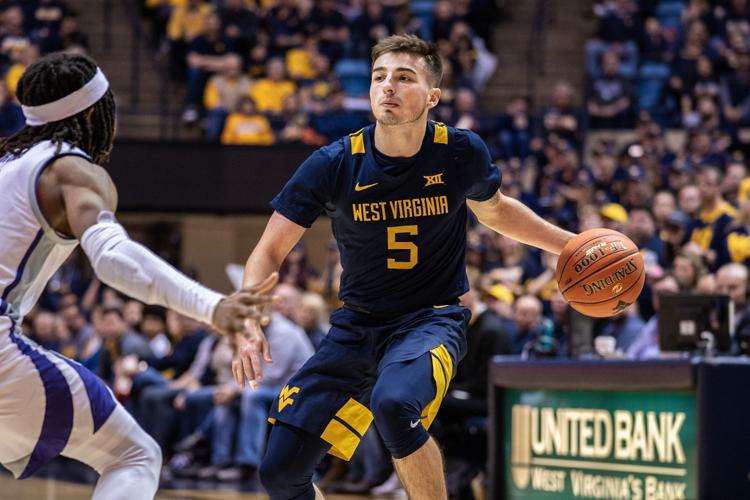 At the conclusion of West Virginia's 66-57 victory over Kansas State on Saturday, Jordan McCabe had a very limited statline.
One of the Mountaineers' two starting guards, McCabe accumulated zero points, one rebound and two assists in 10 minutes of play — a meager portion of West Virginia's total numbers. 
Despite starting every game he has played in this season, McCabe, a sophomore from Kaukauna, Wisconsin, has made very few waves. Yet, McCabe's impact goes beyond the box score. Despite ranking among the lowest scorers on the team, his teammates say that he is one of the biggest contributors to West Virginia's success this season.
"He's a great point guard," guard Brandon Knapper said. "I ain't going to lie, I learn some stuff from him. He's a great passer, great facilitator."
McCabe has also played a pivotal role in the freshman season success of guard Miles McBride. Entering Saturday, McBride was third on the team in scoring, averaging 10.4 points per game. He attributes much of that to McCabe.
McBride, who has come off of the bench in all of West Virginia's games this season, has often subbed in for McCabe. The rotation allows McBride to see things that, if he is starting, he normally wouldn't see. 
"It gives me a different view than being on the court, because, obviously, when you're off the court, you get a better view of things," McBride said. "On the court, it's a lot harder to get that feel. Having that chance to see things off the court helps a lot. 
"Having him to talk to me while I'm playing is a big help to me because he's a great point guard. He's very heady. He knows what he's talking about, and I trust him."
McBride says that McCabe's experience plays a large factor, despite McCabe only being a sophomore.
"He just keeps me positive, and he's teaching me a lot of things about angles, how to make a good pass, things like that. That behind the back pass I threw to Chase (Harler), that's one of the things I've learned from him."
As the team progresses through Big 12 Conference play, McCabe will continue to be a shoulder to lean on for many of his teammates.
"Just a leader," McBride when asked about McCabe's role. "The starting point guard. He's gonna be the leader — the guy we look to — and he fills that role."