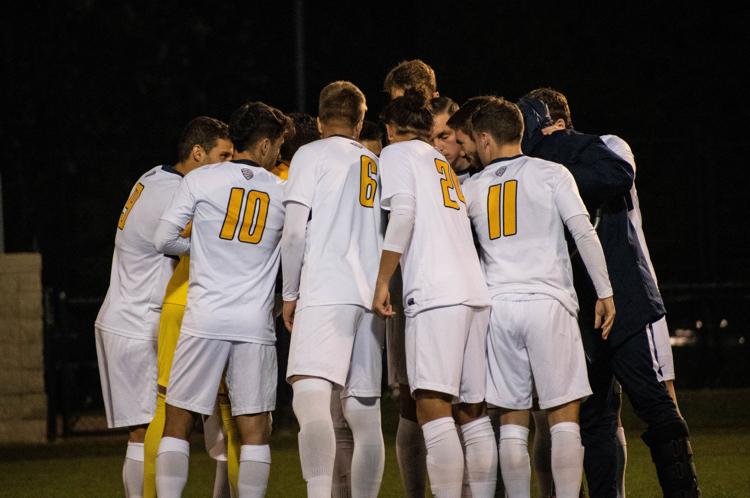 The West Virginia men's soccer team will look to avoid its fifth straight loss when the Mountaineers take on American in its final non-conference match of the season on Tuesday night.
The Mountaineers are most recently coming off a 4-2 defeat to Northern Illinois on Friday, which saw Rodrigo Robles Grajera and Ryan Kellogg net a goal a piece. Unfortunately for WVU, it was unable to contain the Huskies.
"It's so disappointing in regard to how we concede our goals. We gift opponent's goals, literally passed the ball right to them on two of their goals today," West Virginia head coach Marlon LeBlanc said on Friday. "Today was as great as we've played all season long and then for the way that we concede goals is absolutely shameful."
Robles Grajera and Andres Muriel Albino lead the West Virginia offensive scoring attack this season with six goals and 14 points apiece. Tony Pineda and Pascal Derwaritsch trail the duo with two goals each and are the only other Mountaineers with more than one goal on the year.
West Virginia's ability to score goals on the season has been minimal, especially compared to a 2018 campaign that saw the Mountaineers make a run into the second round of the NCAA Tournament.
The Mountaineers remain knotted with their opponents in offensive categories, with each having netted 22 goals in total while averaging 1.69 goals per game on the season.
American (2-9-2) is coming off its second victory of the season as the team defeated Lafayette on Saturday night. The only other victory on the season for American came against Holy Cross on Oct. 6.
The Eagles have also experienced a low scoring season, only netting eight goals. For comparison, their opponents have collected 26 goals on the season and average two goals per game.
Forward Nick Dimitrijevic leads the American offensive scoring attack on the season with two goals and four points and is the only Eagle to net more than one goal this season. Six other Eagles each have one goal on the season.
Tuesday night's matchup from Reeves Field in Washington D.C. will kick off at 2 p.m.