After beginning the season 2-3 and being shut out in three of their first five matches, the West Virginia men's soccer team has now scored two goals or more in eight of their last 10 matches.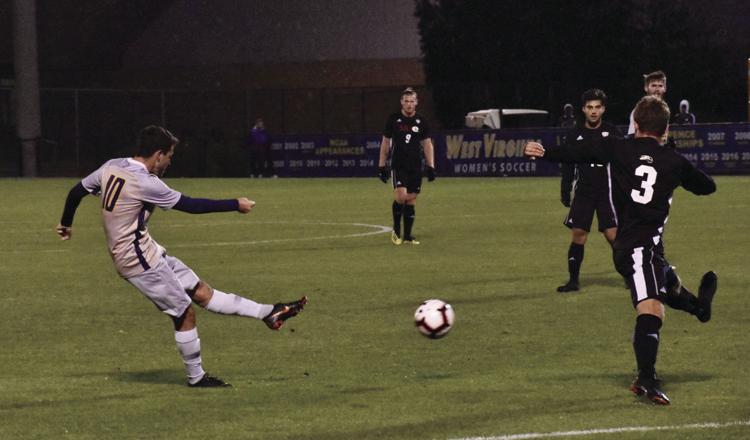 They won each of the eight, and this stretch of high-scoring games has also seen the Mountaineers have two three-game win streaks.
West Virginia (10-5, 3-0 MAC) has won every match this season where they have scored at least two goals, but four of their five losses have been shutouts.
Three of the shutouts were early in the season where WVU struggled to find scoring opportunities, included was a 1-0 loss to UCF where West Virginia was outshot 18-5.
"I think we easily could've been 4-1 after our first five games," WVU head coach Marlon LeBlanc. "We didn't score. We got shut out a couple times. I think what's changed is that we've found some different ways to score."
WVU finally did find ways to score and they rebounded from their 2-3 start with a three-goal performance against Saint Francis, and once they found ways to score, they didn't stop.
The Mountaineers have two five-goal games this season and have only been shutout one time in the last 10 matches.
The change for West Virginia to score more goals, though, has come differently than it does for many other teams.
Most other teams at this point in the season have a clear leader in goals, but going into their match Saturday night against SIU Edwardsville, WVU had three players tied for the team lead in goals, but only at four apiece.
"We don't have a nine or a seven-goal scorer like SIUE has in their front-runners," LeBlanc. "Kellogg's got four, Pascala's got four, Piatczyc's got four, we've got another guy with three. I think we've learned to be a little more goals-by-committee."
Going into the end of the season, West Virginia will need to continue their hot streak in goal-scoring, and especially in their final three regular season games as they are still looking to clinch the top seed in the MAC Tournament.
The Mountaineers currently lead the MAC with nine points and a 3-0 conference record, and WVU winning the regular season championship would give them home-field advantage for the tournament.
A win over Bowling Green on Friday will secure the regular season championship for the Mountaineers and the right to host the MAC Tournament.
"It's crunch time, the games only get harder from here on out, and that's not to say anything disparaging about any of our previous opponents, but the stakes get higher every game you move on in the season," LeBlanc said.
West Virginia's next match is the Backyard Brawl against Pittsburgh and the Mountaineers' final non-conference match of the season.
Kickoff between WVU and Pittsburgh is set for Tuesday at 7 p.m.