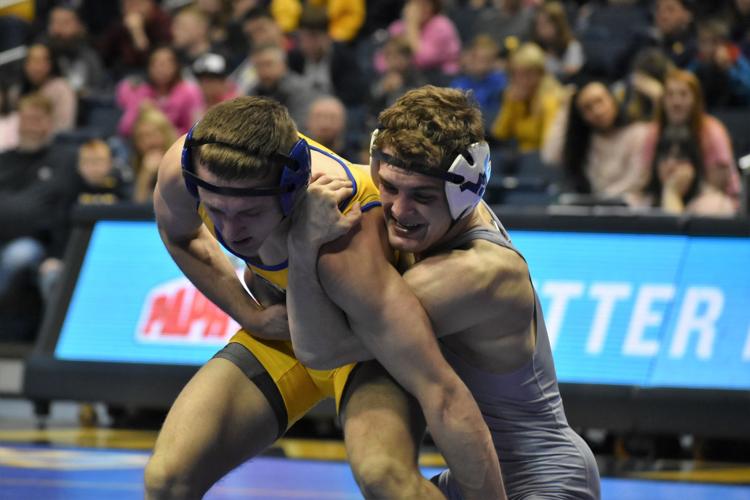 Zeke Moisey and Jake Smith advanced to weightclass finals as the WVU wrestling team finished ninth at the Big 12 Championships
Moisey (125), seeded third, made his way to the finals by way of 11-3 major decision and 8-5 decision over Northern Iowa's Jay Schwarm and Taylor LaMont of Utah Valley, respectively. Last time out, LaMont pinned Moisey in 7:26 to record his first win of the season.
In the Big 12 Championship 125 final, Moisey fell to Nick Piccininni, of Oklahoma State, in 1:11. Regardless, Moisey will prepare to make a resurgence at the NCAA Tournament for his first time since 2015. He ended the 2015 season as an NCAA Runner-Up.
"I feel like after my freshman year doing well and then getting hurt and sitting out, watching the team not have much success, it lit a fire under my butt to get back and to be ready to lead the team," Moisey said.
Matthew Schmitt (133) began the tournament against Trevor Williams of Fresno State and ended the Championships with a fourth place finish. Schmitt advanced to the quarterfinals after a 16-1 technical fall over Williams and then the semifinals following a 9-2 decision over Rico Montoya of Northern Colorado.
Schmitt then faced Seth Gross of South Dakota State, who won the 133 Big 12 title last season. He lost to Gross in a 10-2 major decision. Gross would go on to repeat his title.
In 141, Christian Monserrat recorded a win against McGwire Midkiff, of North Dakota State, 9-0, before losing a 5-0 decision in the quarterfinals to eventual finalist Dean Heil of Oklahoma State.
149 brought WVU more success, as Kyler Rea advanced to the quarterfinals. Rea won a close 5-4 decision over Dane Robbins of Air Force before falling to eventual finalist Max Thomson of Northern Iowa, 9-0.
In 157, Zach Moore advanced to the quarterfinals, where he met North Dakota State's Clay Ream. Moore lost a 10-2 major decision to Ream, who would lose in the final to Wyoming's Archie Colgan.
Nick Kiussis defeated Skyler St. John of Iowa State in the 165 preliminaries before falling to Branson Ashworth of Wyoming in the quarterfinals.
In 174, Parker VonEgidy was defeated in the preliminaries, but claimed two consolation victories to finish his last Big 12 Championship in sixth place.
Brenden McRill suffered a similar fate at 184. After a 5-2 decision loss to Zen Ikehara of Air Force, McRill lost once more in the consolation round to Dane Pestano of Iowa State.
Fourth-seeded Smith found his way back to the Big 12 Championship final stage for one more year after beating Oklahoma State's Preston Weigel in an emotional semifinal 4-3 decision. Smith, rebounding from a season-ending injury in the finals versus Weigel last season, spent the off-season as well as the first two matches of 2018 rehabilitating.
"The bar is always set higher for me," Smith said. "I've always tried to outdo what I thought I could always do. I'm just going to take it one match at a time, but throughout my career, Preston Weigel of Oklahoma State is a match that is deep-rooted for me."
Smith advanced to the finals for the second straight year to face South Dakota State's Nate Rotert.
Smith and Rotert finished the first period scoreless. A second period WVU escape made the score 1-0. Rotert added a third period escape to tie the score and send the final to sudden victory. The first and second sudden victories were scoreless, until Smith added a point for an escape to make the score 2-1 in the second. After an equalizing SDSU escape and point for one second of riding time, Rotert won 3-2.
"It just comes down to seconds in wrestling," Rotert said after the match.
In the lowest scoring Mountaineer bout of the tournament, heavyweight Brandon Ngati was knocked out of championship contention in the preliminaries by NDSU's Dan Stibral, 2-1. In the consolation, Ngati lost 3-2 to SDSU's Alex Macki to end WVU's scoring hopes.
Moisey, Schmitt and Smith clinched spots in the NCAA Championships despite their losses. The NCAA Championships will take place from March 15-17 in Cleveland, Ohio.