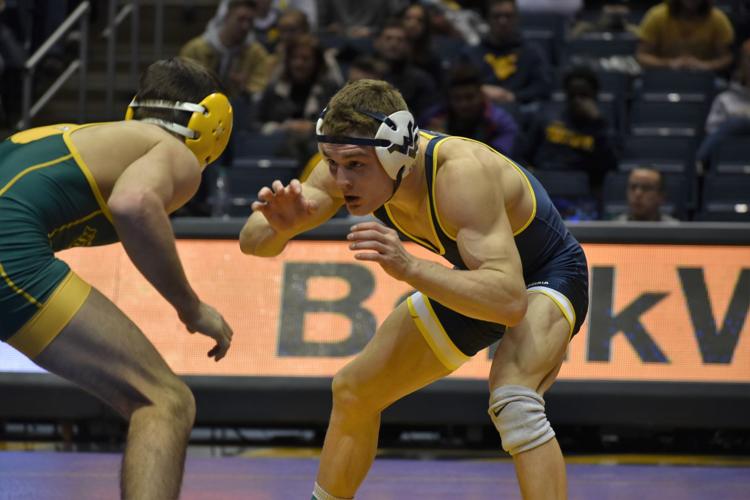 Although the West Virginia wrestling team (3-5, 2-3 Big 12) has teetered on the win/loss line this season, a couple of positives have remained constant.
Redshirt junior Zeke Moisey and redshirt senior Jake Smith both began the 2018 season ranked in the preseason polls. Moisey came in at No. 8 in both the InterMat and The Open Mat polls. Smith controlled the top of the polls, coming in at as high as No. 6 by FloWrestling.
Both wrestlers spent a portion of last season out with injuries — Smith with an ankle and Moisey with an arm — but were still very much on the radar for national consideration. The 2018 season began as a rehabilitation year for the two but quickly became rankings-oriented yet again.
"We're getting back on the mat and getting healthy," Smith said. "We're getting our timing back on key and everything will start falling into place."
Since that preseason poll, neither Moisey nor Smith have wavered dramatically in the rankings. Moisey began the season ranked 16th and Smith came in at No. 7. Moisey has been as high as No. 7 and as low as No. 20 but has yet to fall out of the rankings completely.
Smith has been as high as No. 5, and until his 6-5 decision loss to Sam Colbray of Iowa State Smith hadn't missed a week in the rankings. In fact, prior to the
Jan. 22 poll in which his name didn't appear, he hadn't dropped lower than No. 12. His fall from the rankings was so unprecedented that FloWrestling posted a disclaimer above their updated poll.
"Smith has unfortunately been hampered by injuries this season and does not have enough wins on his resume to keep him ranked after a loss to Iowa State's Sam Colbray on Sunday," the statement announced. "Smith, however, remains an All-American contender."
Four WVU wrestlers in total have been ranked in the polls at one week or another this season. For example, during the week of Nov. 25, freshman Matthew Schmitt joined the duo, coming in at No. 19 via The Open Mat. He then entered the match against Nebraska and won by 10-2 major decision against Brian Peska.
On the week of Dec. 20, redshirt junior Zach Moore joined Moisey and Smith. He was ranked No. 20 by The Open Mat going into the Virginia Tech match.
The team is anticipating more individual honors as the conference schedule continues. With 14 freshmen, head coach Sammie Henson has innumerable untapped potential for the coming years, especially with freshmen like Schmitt already making a name for himself and the program.
"We're young this year," Moisey said. "We have a bunch of guys who've never wrestled Division I before or were never starters before. These freshmen are learning what it takes to be Division I wrestlers, and the guys who've never started before are getting a feel for what it really is like to wrestle a Division I schedule every single day."