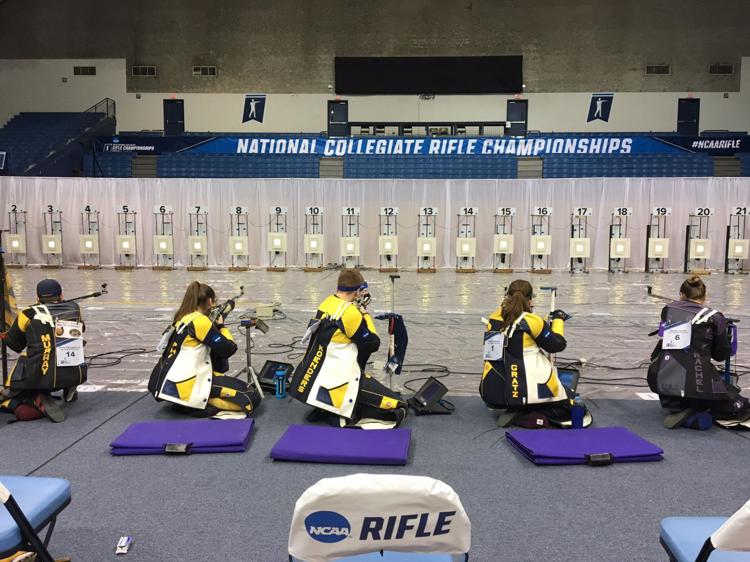 At the conclusion of the first day of the NCAA Rifle National Championships, West Virginia sits in second place.
No. 4 Kentucky leads all teams with a 2345. WVU shot a 2327 in smallbore on Friday.
The big news today, however, was sophomore Morgan Phillips going back-to-back as the NCAA individual smallbore champion.
Phillips shot a winning score of 459.4. After the prone series, Phillips was sitting in fifth place. She caught fire while in the standing position, as she jumped into first after her first five shots.
"Morgan shot a great final. It's a three-position final. You have to shoot great in all three positions," head coach Jon Hammond said. "She was middle of the pack after kneeling and prone but was still in it. She shot some incredible standing, and slowly but surely, she made her way up there."
"Just a great overall performance from Morgan today and an awesome final," said Hammond.
Ginny Thrasher and Milica Babic both shot a 582, which was good enough for a share of tenth place. Fellow Mountaineers Elizabeth Gratz and David Koenders each shot in smallbore, too. Gratz shot a 579 and Koenders shot a 575.
"I just tried to stay as present as possible and keep focused on every individual shot," Morgan Phillips said. "I knew I had a rough couple of kneeling series. I had to work through those and keep present for every shot after that. It means a lot (to repeat)."
West Virginia will seek their sixth consecutive national title as the NCAA National Championships conclude with the air rifle competition on Saturday starting at 10:15 a.m.